Post Date
March 15, 2017
Comments
0 Comments
Author
Global Dental
Category
Home, News and Event, Uncategorized
"I really love the mission of Global Dental Relief, but I don't have any experience in the dental field."
This is one of the most common responses we hear from prospective volunteers; and contrary to popular belief, you don't have to be a dentist to join us in one of our clinics. In fact, Global Dental Relief clinics could not function without the dedication and commitment of our non-medical volunteers.
At Global Dental Relief, the term "non-medical volunteer" refers to volunteers without any formal dental training. This also includes pre-dental and pre-dental hygiene students who are on their way to becoming dental professionals. GDR volunteers are family members, children (14 and older), students, friends, and retirees; they are executives, lawyers, and consultants. The only requirement of a non-medical volunteer is the desire to help children in need. Our volunteer teams typically consist of 4-5 dentists, 2-3 hygienists and roughly 10 non-medical volunteers. This means that 65% of our volunteers are non-medical.
As a non-medical volunteer, you can expect to do one of the essential jobs listed here:
1. Sterilization
At each of our individual clinics we serve an average of 100 children a day, all of whom require clean instruments for examination and treatment. At our sterilization station, non medical volunteers assist our dental chairs by insuring all instruments are kept cleaned and ready for use!
2. Fluoride
In this particular role, volunteers work directly with children as they come out of the dental chairs. You will apply fluoride paste to their teeth, which combined with regular brushing will help protect from future cavities.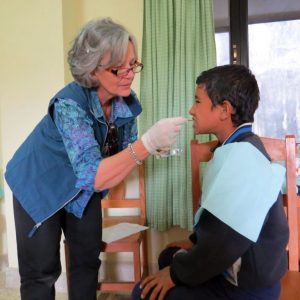 3. Record Keeping and Checkout
Volunteers help keep a careful tally of the information gathered and treatment provided, which will prove invaluable to GDR in calculating our impact and planning future clinics. In this role, you will also get to distribute stickers or other prizes to the children as a reward for their bravery. (AKA the clinic favorite!)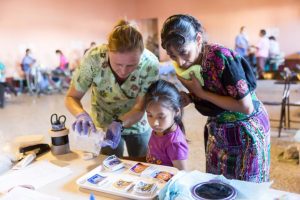 4. Tooth brushing and Dental Hygiene Instructions
This role is great for anyone who has high energy and a love for children! You will team up with a local community member to creatively and interactively teach kids about the importance of good dental hygiene and how to take care of their teeth.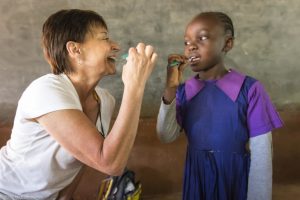 5. Clinic Flow
Our "clinic flow" volunteer is a suitable role for anyone with quick reflexes who is good at thinking on their feet. You will help keep tabs on children in the clinic as they move from station to station.
6. Chairside Assisting
The role of chairside assisting is complex and entails many different responsibilities. From preparing amalgam for the filings to charting – our chairside assistants do it all! As an assistant, you will be trained on the ground to assist our dentists and hygienists in order to serve as many kids as possible.chairside assisting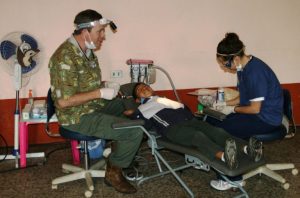 As you can see, non-medical volunteers are crucial to the success of our clinics. Their hard work allows GDR clinics to provide crucial dental care to thousands of children all over the globe. Without them, this work would not be possible.
If you are thinking of joining a trip, we have several non-medical openings on our upcoming trips. We are always in need of dedicated and compassionate volunteers. The mission and vision of GDR would not be possible without the support and commitment of our volunteers!
To find out more information or how to apply, contact us at volunteer@globaldentalrelief.org.
Current clinics with non-medical openings: (subject to change)
Guatemala June 2nd- 11th, 2017
Cambodia July 2nd – 14th, 2017
India August 21st – September 4th, 2017
India September 2nd – 16th, 2017
Kenya July 11th- 24th, 2017
Cambodia October 24th- November 5th, 2017