You do not have to be a dentist to volunteer with Global Dental Relief!
General volunteers typically make up 60% of each volunteer team. A strong general volunteer team is critical to manage daily clinic logistics and care for the children.
There are a variety of exciting and essential jobs that you might be asked to perform as a general volunteer. Often, volunteers will rotate through two or more of these duties over the course of the clinic.
If you have a strong preference for one or more of the responsibilities described below, be sure to mention that to your clinic leader during the clinic briefing.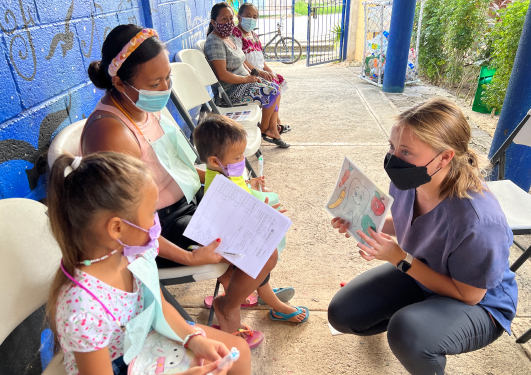 Hear from our general volunteers

An Interview with Lisa Sasevich, General Volunteer

Why be a Non-dental Volunteer (Carole Witka, General Volunteer)
Sterilization

We care for an average of 100 children per day, and they all require multiple instruments for examination and treatment. Working in sterilization, you will play a key role cleaning and sterilizing instruments while also keeping the instrument table stocked and well organized.
Fluoride treatment

In this role, you work directly with children following their treatment to apply fluoride paste to their teeth, which, combined with regular brushing, will help protect them from future cavities. You may also be asked to keep an eye on and provide moral support to kids who have just had a tooth extracted until they are ready to leave clinic.
Record keeping/checkout

This job requires someone with an eye for detail and a love of little smiles. You will check out each child as they leave the clinic, collecting their record sheet and giving each child a sticker.

The record keeper keeps a careful tally of the work completed for each child, making note of whether or not they will need to come back for further care. Your summary will prove invaluable to GDR in calculating our impact and planning future clinics.
Tooth brushing/dental hygiene instruction

This is a great job for anyone who has lots of energy and loves kids. You will team up with a local community member to creatively and interactively teach kids about the importance of good dental hygiene and how to take care of their teeth. Think games, songs and fun!
Chairside assisting

As an assistant, you will be trained to work alongside a dental professional, helping with exams and procedures. You will be working directly with our young patients, so it is important to maintain a calm, soothing demeanor.

Dental assistants maintain patient dental charts, provide suction, retrieve instruments and needed dental materials, and generally support the dentist or hygienist in their patient care.

If you are a trained dental assistant, this should be second nature to you, though it may take you a few hours to adjust to field conditions. As a professional, we may call on you to train inexperienced assistants or sub in on especially complicated procedures. We love our RDAs!