In-kind donations allow us to keep clinic costs low and provide care to the children we treat for free. Field dental clinics require large quantities of supplies and equipment. Below is a list of accepted items.
You can mail supplies to:
Global Dental Relief
2090 S. Grant Street
Denver, CO 80210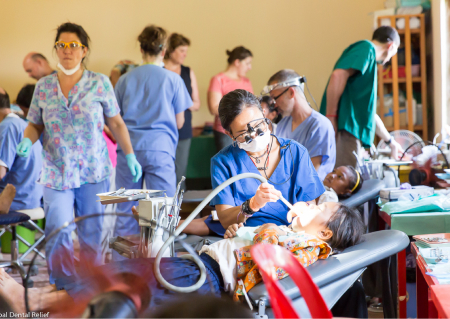 Supplies & Equipment Needed:
Fluoride Varnish
Anesthetic
Amalgam
Sealant and Etch material
Composite material
Instruments:

Mirrors
Carvers
Explorers
Spoon excavators
Round burnishes
Condensers (small)
Surgical instruments (most common varieties only)
Slow and high-speed handpieces
Cavitron tips
Supplies — The project uses a wide variety of common supplies including:

Face Masks
Gloves (all sizes)
Gauze
Bibs
Bibs clips
Dental floss
Small equipment — Ultrasonic cleaners, amalgamators, Cavitron units, curing lights
Toothbrushes
Please note: We are unable to accept expired donations.
For more information about how you can donate to Global Dental Relief, contact our office at 303-858-8857.