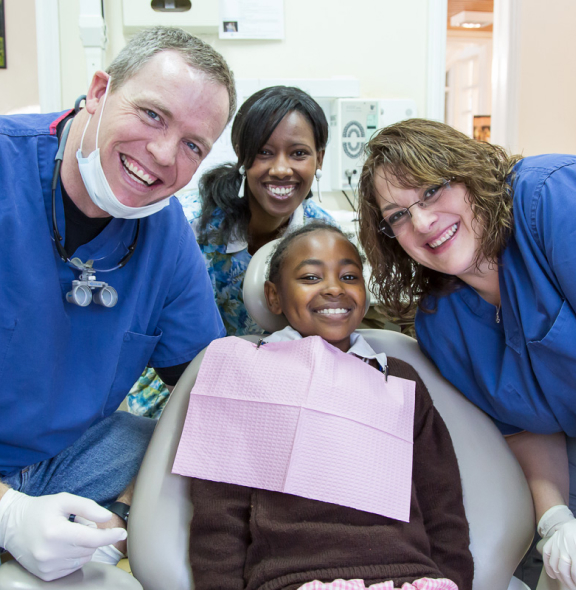 Dental Clinics
Global Dental Relief volunteers provide critical dental care to children — often the first care of their young lives.
Care is delivered in field clinics set up in local schools or municipal buildings. Volunteers form effective, hard-working teams treating and educating local school children over the course of 5 to 6 clinic days.
Patients are brought to clinics class by class from local schools. During their visit, children are taught how to brush, the basics of good nutrition, and receive dental work to restore healthy teeth and smiles.
Once dental health is restored, children return to the clinic every two years to ensure a childhood of healthy smiles.
Clinics host up to five dentists and two hygienists. Ten additional general volunteers provide clinic support, working as chairside assistants, sterilizing, keeping records or educating children.
Why Dental Care for Kids?
Many children globally live without access to dental care, since local dentists are few and the cost of care is financially beyond reach. A child with a healthy mouth is more likely to have a healthy life. Without dental care, a small area of tooth decay could remain untreated, growing each year until it becomes infected and inflamed.
This infection and chronic pain affect a child's ability to sleep at night, eat properly, or stay awake in class. Over time, they lose their smiles, self-esteem and ability to thrive.
For many children, Global Dental Relief volunteers provides the first dental care and oral health education of their young lives. During a clinic visit, each child receives a comprehensive exam, all needed dental care, a fluoride treatment and a new toothbrush and oral health instruction.
GDR's mission is to restore children to bright smiles. Most importantly, GDR volunteers return to treat these same children every two years.
Oral Health Program
Global Dental Relief's Oral Health Program gives each child:
an oral health lesson,
a new toothbrush,
and a fluoride treatment.
Oral health instruction is given every year, either during a clinic or a classroom visit. The goal is to instill oral health habits in children, their families, and by extension, the community at large.
Each year, GDR dental clinics provide 22,000 children with oral health instruction during a clinic visit. Since local schools attend GDR clinics every other year, the Oral Health Program reaches children in the off years to reinforce and continue oral health education.
Currently we are working in Nepal, Guatemala and Kentucky:
In Nepal, local staff Nelha Sangmo leads teams to deliver oral health care to 6,000 children annually, ensuring all 12,000 Nepali children under our care receive instruction either during a clinic or a classroom visit.
In Guatemala, local staff Marily Giron is hard at work visiting 6,000 children in schools each year, providing classroom instruction, new toothbrushes and fluoride applications.
In Kentucky, GDR staff Becky Bay leads programs in four local schools, reaching 2,000 children with annual instruction and care.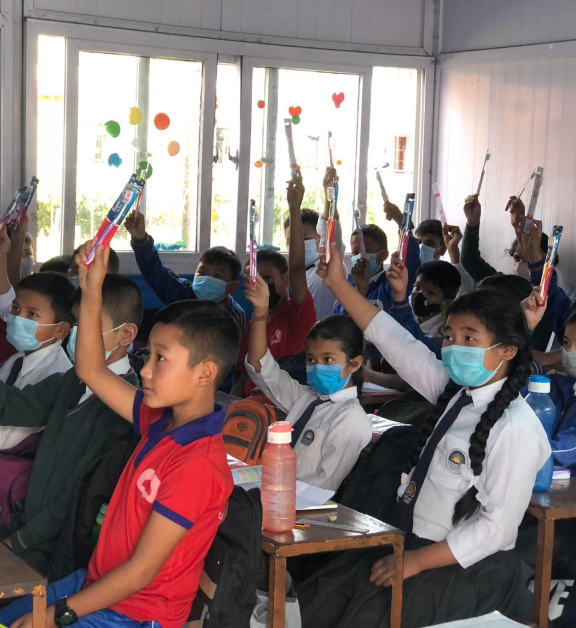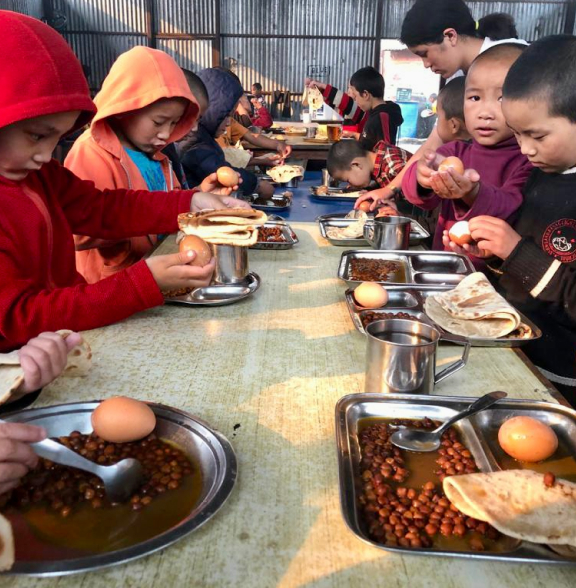 School Lunch Program
GDR is transitioning food efforts in Nepal with a pilot School Lunch Program. With children back in school, we are working to augment school lunches and provide added nutrition in the form of fruits and proteins.
Children from remote areas of Nepal typically live in hostels or boarding schools in Kathmandu while receiving an education. At many schools, children are fed a sparse diet of rice and lentils, with occasional vegetables.
This new program allows us to reach children directly, providing an extra boost of nutrition as they recover from the hardship of two years of lockdown and closures.
For just $1 a week, we can provide a child with vital nutrition (two eggs and three pieces of fruit a week). For $4 a month per child, or about $50 a year, a child receives critical protein and vitamins, bolstering their nutrition and ability to thrive.
We are grateful to the program's many donors and sponsors — together, we are doing our small part to bring care and hope to children in Nepal.
Food Scarcity Program
Food Scarcity Program June 2020 — January 2022 placed on hold
The Food Scarcity Program began in 2020, when Global Dental Relief saw children we had served with dental care for almost 20 years going hungry due to the COVID-19 pandemic. These are children GDR knows, cares about, and is committed to serving.
In both Guatemala and Nepal, food was distributed in packages providing a family of five with food for a week. Each family received an allotment of rice, lentils, flour, oil, a vegetable and salt in Nepal, and rice, beans, a protein powder, and a vegetable in Guatemala.
Providing food for a week cost $14 for a family of five. Meals were designed to fend off the dire effects of malnutrition and bolster a child and family's overall health and ability to thrive.
GDR's Food Scarcity Program is currently on hold, as conditions have substantially improved on Nepal and the government is providing food distribution in Guatemala. But GDR stands ready to respond if and when future COVID waves materialize.