Global Dental Relief welcomes volunteer dentists, hygienists, dental assistants and dental/hygiene students to join our volunteer teams.
Volunteer teams include up to five dentists, three hygienists and 10 assistants and general volunteers. Our global dental clinics operate eight to nine hours per day for five to six days (the perfect short-term volunteer opportunity!) and are set up in local schools or municipal buildings. Children are brought to the clinic by classroom and each child receives an exam, all necessary restorations and extractions, cleanings when possible, a fluoride treatment and oral health instruction.
Care is provided to restore permanent teeth, and children are recalled every two years to ensure long-term health.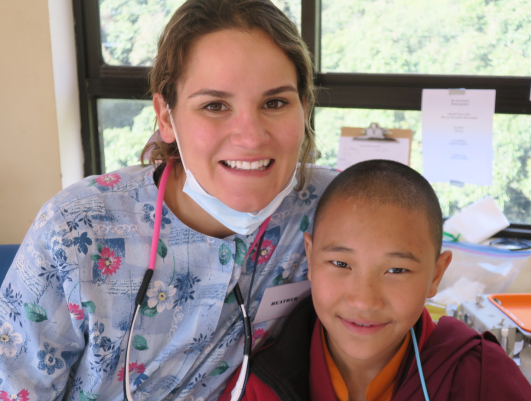 Hear from our dental volunteers

Continuity of Care with Tim Reaume DDS, Dental Volunteer in Cambodia

Giving Back Globally with Marilyn Miller, RDH Global Volunteer
Clinic protocols

Dental volunteers perform exams, restorations and extractions as needed. Volunteer dental professionals work alongside an assistant who carries out normal chairside duties, including charting as well as instrument and suction support. Some assistants may be highly trained, and some may be relatively new to the role.

Volunteer dental clinics are set up in a school or community room and provide free dental care to children (ages 6 to 15 years) from surrounding schools.

Global Dental Relief provides portable dental units and all the instruments and supplies necessary to perform restorations, extractions, sealants and preventive care.

We treat primary teeth only in cases of abscess by doing an extraction. We do not fill primary teeth, instead devoting our limited time and resources to saving permanent teeth.

Due to field conditions and long-term access to care, we use amalgam for most restorations. Exceptions are made in the case of anterior restorations, which are done on a limited basis. There are a variety of liners/bases provided for your use in the clinic.

Generally, global dental volunteers make a treatment plan for two quadrants and do about 20 to 30 minutes of work per child. Children can return for a second or third visit to finish their treatment. The clinic leader is there to guide and support you and answer any questions you might have.

There is no X-ray in the clinic. If an X-ray is required to complete treatment, the child can be sent to a nearby hospital. Availability of this option varies depending on location.
Volunteer as a specialist (perio, endo, oral surgery, ortho, prosthodontics, etc.)

Although our work centers around general care, we welcome dentists from all specialties. Due to the field conditions and locations in which we work, all specialists are expected to perform amalgam and composite fillings and extractions in the clinic.

By signing the volunteer service application, you agree to the clinic treatment protocol and use of materials. See the clinic protocols section above for more details.
Volunteer as a licensed dental hygienist

Each volunteer dental clinic has the capacity for one to three hygienists, who provide cleanings and place sealants when possible. Hygienists are equipped with cavitrons and a range of scaling instruments.

Volunteer hygienists work with assistants, who may be either GDR volunteers or local partners, to ensure children are comfortable and understand the importance of oral hygiene.

Along with toothbrush instruction and nutrition counseling, each child receives a fluoride varnish treatment. We are committed to treating schools every one and a half to two years through international dental volunteer teams to improve the oral health of each child and instill a culture of good oral hygiene for generations to come.
Volunteer as a registered dental assistant

Your background and expertise are invaluable in helping clinicians be as efficient and effective as possible. Volunteer dental assistants work alongside dentists, helping with exams and procedures, maintaining patient dental charts, providing suction, retrieving instruments and needed dental materials, and generally supporting the dentist in patient care.

As a trained dental assistant, this should be second nature to you, though it may take you a few hours to adjust to field conditions in our international dental mission trip. As a professional, we may call on you to train inexperienced assistants or sub in on an especially complicated procedure. We love our RDAs!

See the dentist and hygienist sections above to see the types of procedures and treatments you will be assisting.
Equipment/Materials Used and Provided for Volunteers in International Dental Clinics

GDR provides equipment and supplies to carry out preventive, restorative and palliative treatment in the global volunteer clinic setting. Below is a list of items that are provided for you in each dental clinic overseas:

Portable Dental Units: Portable dental units will be provided for your use. Units have high- and slow-speed handpieces, three-way syringes and venturi suction.

Instruments: International dental clinics are well equipped with surgical, perio and restorative instruments. Please do not bring your own instruments unless you are donating them. It is difficult for us to mix personal instruments with GDR's supply and separate them at the end of the clinic.

Anesthetic: We provide local anesthetic (primarily Lidocaine, 2%), needles and syringes for your use.

Restoration Material: Amalgam is provided for fillings. . Along with Dycal® and IRM, we also stock at least one glass ionomer liner. Material needed for composite restorations for anterior teeth is also available.

Scrub Tops: Scrub tops (but not bottoms) are provided for your use. Please refrain from bringing disposable scrub tops, as this adds to the problem of waste disposal in already polluted villages.

Lights: We provide headlamps for each volunteer dentist and hygienist. Bring your own if you have one and would find it more comfortable.

Safety Glasses: If you would like to work with safety glasses, please plan to bring your own when you volunteer internationally (we usually have a supply on hand, but yours might be comfier).

Disposable Gloves:Disposable gloves will be provided on site for your work.

Hygiene: Hygienists work with Cavitrons and assorted hand scaling instruments.

Burs: While we have a good selection of the most popular burs in our volunteer dental clinics, some dentists have mentioned that they wish they had brought their own favorites for the mission trip. If you have certain burs that you like to work with, you may want to bring a small supply to donate to future international dental clinics.

Rubber Dam: We do NOT provide rubber dams on our mission trips. If you enjoy working with a rubber dam, please bring your own dam material, as well as forceps, punch, frame and clamps.
You are welcome to
contact us
or call our office at 303-858-8857 for further information about volunteering as a dentist/hygienist, or protocols in our international dental clinics..