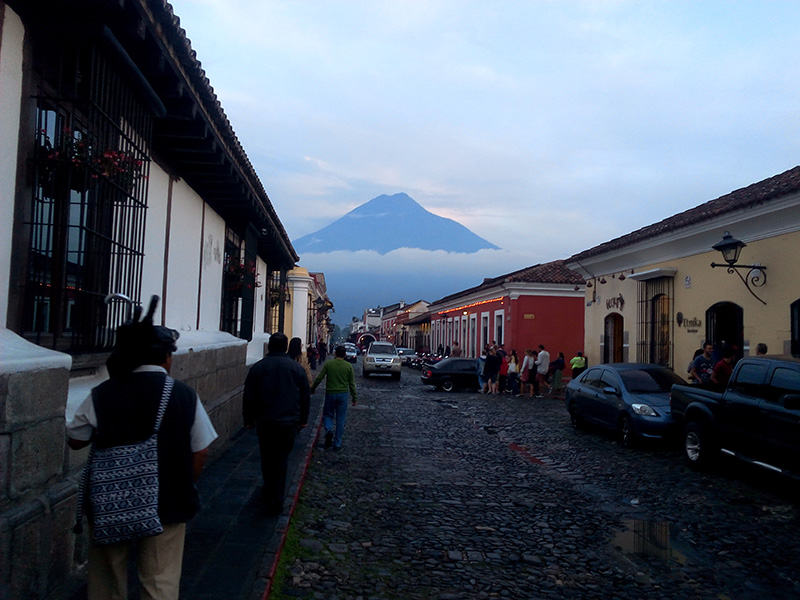 Arriving in Guatemala
By Will Mateo, Global Dental Relief Country Coordinator
I landed in Guatemala City late at night and arrived in nearby Antigua shortly thereafter.
I was in Guatemala to help facilitate a field dental clinic for Global Dental Relief, during which volunteers from all over the United States and Guatemala would come together to provide dental care for hundreds of underprivileged Guatemalan children.
Having arrived after dark, it was with a pleasant shock that I awoke to find myself accommodated in a beautifully weathered former monastery that has been standing in the same spot for hundreds of years, ever since Antigua emerged as the seat of Spanish colonial power in Central America. The bells of a nearby church tolled the hour, and I stepped outside onto ancient cobbled streets. Looking up, I spotted a cloud-wreathed volcano towering imposingly, majestically over the city to the north.
The result of Antigua's 18th century transformation from a glittering colonial capital to, over most of the ensuing centuries, a relative backwater, is a remarkable preservation of the old city. The entire city, with an area of six blocks by eight, is a World Heritage Site, and it's easy to see why: a walk through these streets and the city's many monuments has the effect of transporting one's imagination to the (ultimately unsustainable) grandiosity of Spanish colonial society, made possible by the natural riches of Central America as well as the hard, forced labor of the region's original inhabitants under Spanish rule.
I had only just begun to take in the sights and sounds of Antigua over a cup of local shade-grown coffee when it was time to head to the nearby town of San Martín de Jilotepeque to help set up the dental clinic our volunteers would be working at over the next two weeks. Yes, I remembered, still slightly incredulous, I've come to this beautiful part of the world to work. I don't think I'll ever stop being amazed by the incredible corners of the earth my work for Global Dental Relief takes me to.