Posted on November 25, 2019.
Without the dedication and commitment of our amazing volunteers, we would not be able to do the work we do! We decided it's time for YOU – our faithful readers – to hear from our volunteers.
Follow along over the next few months as we roll out our new Volunteer Q&A blog series!
Dr. Oliva Masry attended her first Global Dental Relief clinic last in year in Cambodia. She recently returned from her latest GDR adventure in Kathmandu, Nepal.
As a dentist, Olivia not only understands the need for dental care in the remote areas that we work, she also understands the inexplicable joy that comes from changing the life of a child in need.
Upon Olivia's return from Nepal, we sat down to chat with her about her recent experience.
1. Olivia, tell us a little about yourself! How old are you? What do you do for work? Hobbies?
I am 68 years old and have been practicing dentistry for 44 years. I am just as passionate about my profession today as I was on day one and am thrilled to be able to use it to help underserved children and adults.

I enjoy so many things in life. My greatest joy comes from spending time with my family. We have four children (including a set of twins) and eight grandchildren. I love playing tennis and try to get to it at least twice a week. Anything in the great sunny outdoors is a perk! I never thought I would enjoy gardening like my mother and grandmother before me, but I am carrying on that tradition.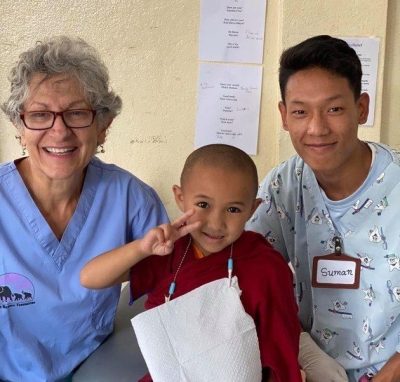 2. What made you choose Global Dental Relief, and how did you initially find out about them?
I always had a desire to volunteer and be able to give back.

I have been clipping articles about GDR from its inception and have a fat file in my drawer of everything I read in ADA NEWS or JADA about GDR. I had always planned to begin volunteering when my kids were done with school and out of the house. It would have been too difficult to balance raising an active family of four, running a busy solo practice and finding the time to do a travel dental mission.
3. Have you had other volunteer experience prior to Global Dental Relief? If so, how did it compare to your experience with GDR?
GDR didn't turn out to be my first volunteer dental mission. A dental patient asked me to help her run a dental mission in Montego Bay, Jamaica, where she has a second home. We originally started a dental mission with a group that had a large medical component. After the first year, we realized we could do better outreach on our own. We found an organization in Jamaica that we rented dental equipment from and did exactly that. We have now run our mission for seven years and are finalizing our 8th mission for the last week of April. We originally saw 432 patients and treated over 900 last year. Even though our missions are quite successful, I actually incorporated some of GDR's protocols into our mission for the past two years and enabled us to treat more patients.
4. What skills or qualifications should one have to volunteer with GDR?
The GDR volunteers we have had on the two missions I participated in have been extraordinarily helpful. There really are no qualifications involving prior dental experience. The only requirement is the willingness to help. All the volunteers I met had that in abundance and really facilitated our patient experiences. We couldn't have done it without them. Whether it was dental assisting, patient set, sterilization setups or coordinating traffic flow within the clinic, their assistance was greatly appreciated.
5. Tell us your favorite part about volunteering with Global Dental Relief.
My favorite part was interacting with the children. They were absolutely spectacular! Many had not been able to go back and visit their families for years as the roads back home up the Himalayan mountains are treacherous and far away. Many of the students live a six to eight days' walk away. And yet the children were happy, almost always having a smile on their face. I found this transformative.
6. What is your most memorable story from your time working in the clinic?
We had five senior students helping us in the clinic. The children are asked to give a year of service as a way of paying it forward for their years of free education and support. We took them out to dinner on our last night. One of the 17-year-old students told us he had not been back home since he was six as the road home is quite dangerous to navigate. He saw nothing extraordinary in this and considered a fellow student, also helping us as a "brother." He told us all this with a smile on his face. We asked him if his parents would recognize him as he had grown into what is likely going to be the tallest man in his village when he gets back home, and he just laughed.

The parents feel privileged to be able to send their kids away as a guarantee of survival. The conditions are so harsh in the high Himalayan mountains that only one in four children makes it to age five.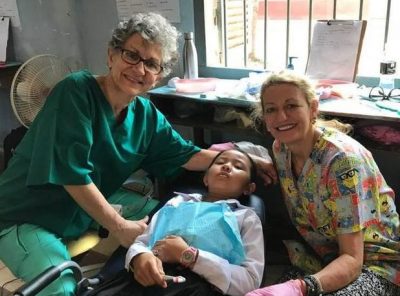 7. Lastly, what would say to someone considering a trip with Global Dental Relief?
I would encourage all dentists to join at least one dental mission with GDR. It is the experience of a lifetime! You will explore a new culture in a way that one could never experience as a tourist. You will provide care to children who have no access to dental treatment other than the visiting NGOs like GDR. You will be sharing these experiences with dentists and volunteers from all over the world! The memories of the children will keep you thinking back for a long time. I have been on two GDR trips and seven on my own dental mission.

I am already thinking of where and when my next GDR trip will be. I highly recommend it.
Global Dental Relief hosts 28 clinics a year in five countries. To anyone who is considering volunteering – there is a spot for YOU!
Let 2020 be the year you take an adventure of a lifetime and provide free dental care to children in need around the world. Signing up for a trip is easy. Click here to begin the online application, or email volunteer@globaldentalrelief.org for more information!
Will you be the next one featured on our Volunteer Q&A?