It starts small – in July 2020, Global Dental Relief fed 56 families of children who attended our Nepal dental camps in the past. Feeding 56 families for a week cost only $14 a family – a small investment for such critical need.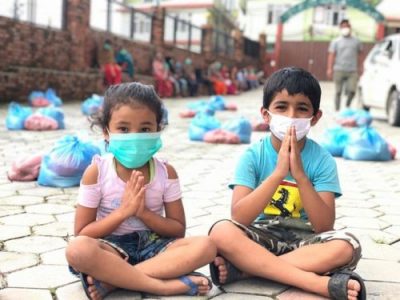 By September, GDR was feeding 250 families in Nepal and 250 children in local charity homes, the equivalent of 300 families. Add to this the work of wonderful Cristy Velesco in Guatemala who is delivering food to 400 local families.
The GDR community of volunteers made this possible in so many ways from donating cancelled trip payments, contributing online, and finding new ways to network and support GDR!
All told, by September 2020, GDR volunteers supported food for 700 families a week.
Since March 2020, over 20 volunteers donated their cancelled trip payments to the food program, raising $12,000 to date. Donations range from $50 to an entire trip fee. Special thanks to Guy Margetts from New Zealand, and Veena Venkataramam, Alek Montgomery, and the Dntl Bar Practice in the USA and to so many more of you, including Randall Wiley who donated his trip deposits for the entire year, and we know that was a lot of trips!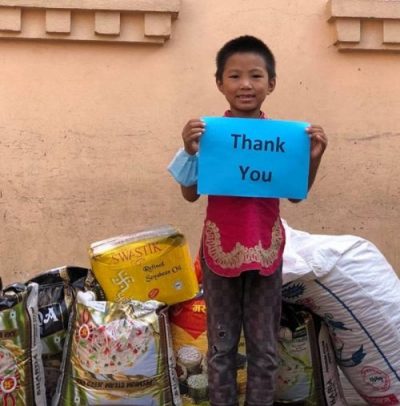 And Mary Miller does it again! Mary jumped right in and got her local Rotary Club to donate to our fund, agreeing to match their donation with one of her own. Well, Rotary did not pan out, but Mary kept her word and donation. Thanks Mary!
Volunteers mobilized their dental teams or extended family to attend GDR's socially distanced Drive-In Movie Event, raising another $38,000 devoted to food scarcity.
Wonderful GDR sponsors like Arhaus and DentalQore shifted their support to feed children as well. And Denver Southeast Rotary joined in a big way, raising $23,000 to date from 6 clubs, including $12,000 in personal donations from individual Rotary members.
All this effort goes to support the work of GDR's two amazing, huge-hearted, in-country staff: Nelha Sangmo in Nepal and Cristy Velesco in Guatemala. Each week, Cristy and Nelha (and SMD staff) load up local vehicles and deliver food to school yards, distributing meals to families or children in charity homes.
Cristy and Nelha are often questioned closely by those receiving food to be sure we are coming again in a week. Families are calculating how much food can be eaten this week and how much should be saved for an even less certain future.
And most disturbing, we are getting families showing up at distribution sites crying because they are not on the list for food that week. For many in these countries, the situation is dire. Meals are eaten only once a day, with mothers feeding children as much tea as they can to fill hungry stomachs. Malnutrition is widespread and growing. Global Dental Relief volunteers, sponsors, and donors have been of service to these children since 2001, providing the first dental care of their lives. Now we are committed to providing them with essential nutrition during this global pandemic.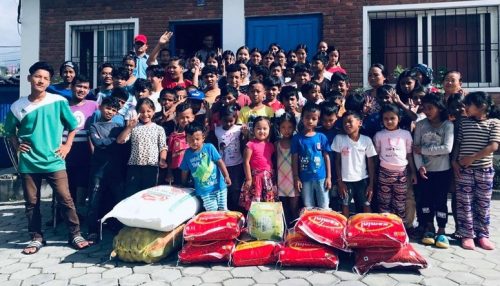 For $14, each family receives enough food for a week. To feed a family in Nepal or Guatemala for an entire month costs just $56, and for six months only $336!
Thank you, thank you to GDR's amazing, big-hearted volunteers and sponsors for making this work on behalf of children possible.
To find out how YOU can be part of the impact and partner with GDR's Food Scarcity Program, click here.
Written by Laurie Mathews, Co-director Emeritus