Posted on May 24, 2019.
How do you end up closer to home when you're volunteering thousands of miles away?
We had just arrived at the hotel in Guatemala. I was gearing up to run a seven-chair dental clinic with 18 volunteers. I glanced over at the new volunteers just arriving – two teenage brothers and their mom. Trip leading involves a particular skill set – the ability to fix a compressor, to make a judgment call on a treatment plan, to calm down the mother of a crying patient, and possibly the most daunting — to keep reluctant family members engaged and excited for the work that lay ahead!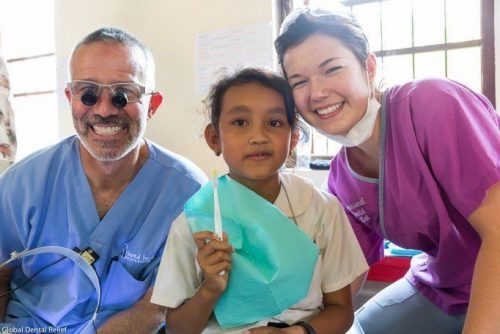 Tim Reaume, with daughter Sophia, working together in Cambodia.
The two brothers sat in the lobby, distant and unengaged. It was clear they had entered the land of unfamiliarity away from their western comforts. It brought to mind one of my favorite quotes from Pico Iyer:
"We travel, initially, to lose ourselves; and we travel, next to find ourselves. We travel to open our hearts and eyes and learn more about the world."
I wondered how the next week working in a dental clinic would unfold for these two brothers.
Deep into the clinic, with hundreds of children filing through to receive the first care of their lives, it happened. The boys' focus shifted from themselves to the common goal of helping children live happier, healthier lives. They were laughing, enjoying each other's company and eager to work in the clinic. I could not believe these were the same brothers who were completely withdrawn only a few days earlier.
Taking the risk to step out of their comfort zone offered the opportunity for this family to reconnect in ways that had been lost in teenage independence and motherly concern. Inspired by this, I thought what a great idea it would be to travel with my own family members.
Fast forward five years – two sisters have joined GDR clinics with me, and I am looking forward to a third coming on a clinic in the near future. The memories that were created and the humanity we found working side by side to help children in need, has not only strengthened our individual relationships but our family unit as a whole.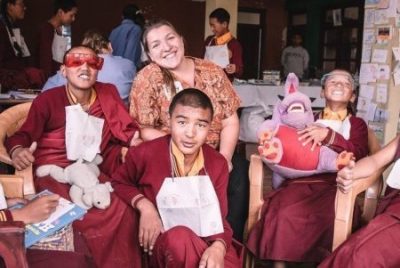 The opportunity to see a new world with familiar faces changes your perspective on both. Differences can be enlightening, beautiful and are essential to understanding our shared humanity.
If you have ever thought about traveling with family members, take the leap! Embark on an adventure to unfamiliar places with loved ones, and you will see them in a new light.
Global Dental Relief offers many volunteer opportunities throughout the year. Visit our website to view our 2019-2020 trip schedule. Email us today to find out how you can make GDR a part of your next family adventure!