As 2017 winds to a close, it's time to look at how and where you want to spend your time in 2018. We have the answer! It's volunteering your time and heart on a Global Dental Relief (GDR) clinic in 2018. Next year, GDR is expanding its work by adding two additional clinics and adding shorter adventure clinics, in hopes of providing free, first-time dental care to more children in need overseas.
Each project offers a unique experience of volunteering in a dental clinic, followed by sightseeing. Volunteers return from a GDR clinic with a full heart, after seeing firsthand the impact dental care has on a child's health and well-being.
After a week of working in the dental clinic, volunteers have the chance to explore popular and often historic sites in the country they are visiting. In Cambodia, volunteers enjoy a beautiful floating village tour and visit the UNESCO World Heritage site of Angkor Wat, in addition to other ancient temples. In Antigua, Guatemala volunteers spend a weekend at Lake Atitlan after working in Ciudad Vieja for the week. For more information about, you can find the Cambodia and Antigua clinic itineraries by following this link.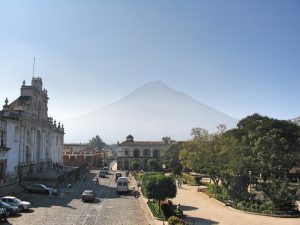 GDR clinics attract volunteers from many different professions and backgrounds. Our general volunteers – those without a background in dentistry – may be teachers, attorneys, students, nurses – basically, anyone with a desire to help children is needed in the clinic. Volunteers receive a full project briefing on site, which includes being trained on their specific clinic job. Regardless of your background, you will be an asset to any GDR team while working in the clinic.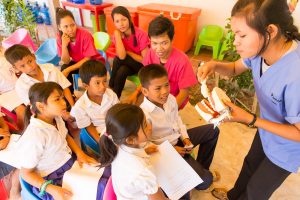 Below is a preview of our upcoming 2018 clinics with current volunteer openings:
Siem Reap, Cambodia February 5th-17th

General volunteers
Dental Volunteer Openings

Antigua, Guatemala March 2nd-11th
Antigua, Guatemala March 9th-18th

Dental Volunteer Openings
What are you waiting for? Join us today and help children around the world live happier healthier lives!
If you are considering joining us at one of these clinics, you can begin your online volunteer application here. Our full 2018 Project Schedule can also be found on our website. Our 2019 Project schedule will be published in late December.
Please feel free to contact us at volunteer@globaldentalrelief.org or call us at 303-858-8857 with any questions you have about volunteering overseas.