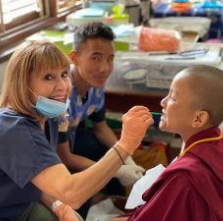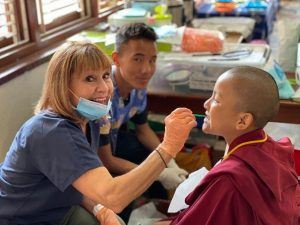 On this installment of Volunteer Q&A, we're interviewing Wendy Collmar! Wendy first volunteered with Global Dental Relief in 2018 on a trip to Kenya. Her next clinic was the following year in Nepal. Flash forward to May of 2021, and she was a part of our inaugural Mexico clinic, which also happened to be GDR's first international clinic since March of 2019, when COVID-19 halted our travels. Wendy's positive attitude and passion for helping others makes her an asset to any volunteer team, especially our newly launched clinics in Akumal!
Hi Wendy! Tell me a little bit about yourself.
I'm Wendy Collmar, and I currently live in McKinney, TX. I am a mother of three and now have three grandsons. Whew! I live two minutes away from them, so I'm used to kids and loud voices! I've taught fitness classes, been active in different volunteering opportunities, and I love to travel. If there's a chance to be outside, I'm there.
1. How did you first hear about GDR?

I first heard of GDR from my brother and our mutual friend 4-5 years ago. They had gone to Cambodia and when I heard that it was for a dental mission trip, I immediately asked if I was qualified to volunteer for these trips. I was so excited to learn that GDR needs and accepts "general volunteers." I logged on to the website and signed up for Kenya and a safari in 2018. I really didn't know what to expect and it turned out to be such a wonderful experience! Making new friends is always a win for me! And I found out I quite like glamping!

2. What has been your favorite destination and why? Are there any special memories that stand out?

In 2019, I turned around and signed up for a Nepal trip with the Everest Trail sightseeing. Another astounding clinic! The culture, the people, the views! It's a win/win! Choosing one location over another is like choosing your favorite child! Each is unique and that's what makes these clinics so special. I have to admit I was pretty pumped when I got to the top of our destination in Nepal.

3. As someone who has now done three clinics with GDR, how did our Akumal clinic compare to others you've done in the past?

I recently returned from Akumal, Mexico where GDR opened their first clinic in that area and first international clinic since COVID-19 shut them down. It is truly amazing to see what goes on behind the scenes. The planning, the supplies, the equipment, the cooperation with the local government and schools, etc. This organization is a well-oiled machine! Everyone is working hard with hope in their hearts that they're making a difference in someone's life that day! I just love it!

4. How would you say the pandemic has affected the volunteer experience?

I can only speak for myself, but this pandemic has shown me once again we are a global community and getting back out there to help others was something I wanted to do ASAP.

5. What is your favorite part about volunteering with GDR?

The children! I love being with the children. Looking into their beautiful eyes, seeing their smiles, and connecting with them by feeling their sweet souls is very special.

6. What would you say to someone who is considering joining a clinic?

Anyone who is considering volunteering for a clinic with GDR should give it a chance! You'll come away feeling so grateful! It gives me a purpose outside my bubble. Not to mention the fabulous side trips GDR arranges if you'd like to participate. Those do not disappoint!

7. Where do you plan to go next with GDR?

I'm headed to Guatemala in a month! I've never been there but I know I'll enjoy the entire experience. And Cambodia is on my bucket list. I think I'll try them all!
A big thank you to Wendy Collmar for being a rockstar volunteer and supporter of Global Dental Relief's mission. Stay tuned for another Volunteer Q&A in the future!