Posted on April 24, 2020.
In this month's edition of Volunteer Q&A, we are hearing from GDR volunteer Scott Bernardy.
Scott is a dental volunteer who has volunteered at our clinics in both Cambodia and Guatemala. Because of his dedication and commitment to our mission, he has single-handedly brought dental care to hundreds of children in need.
Read on to hear more of his story!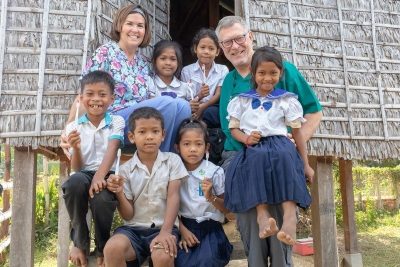 Tell us a little bit about yourself. Where do you live? What do you do for work? For fun?
I live in Maine, which is the best state in New England because of its mountains, rivers, lakes, and has a gorgeous coastline. I'm a general dentist with a focus on fixed orthodontics, implants, and sleep apnea treatment. For fun, it's a long list: hiking, biking, kayaking, sailing, motorcycling, international travel, and of course, volunteering.
How did you originally hear about Global Dental Relief? And what made you decide to join them in their mission?
I heard about GDR from my hygienist who had done previous mission trips with them. I was doing my own "fly by the seat of my pants" humanitarian work in Honduras. After that trip, I did humanitarian work with two other organizations in Jamaica and Peru but was looking for an organization that had thoroughly mapped out their operation from start to finish.
When and where was your first GDR trip? How have you seen GDR evolve over the years?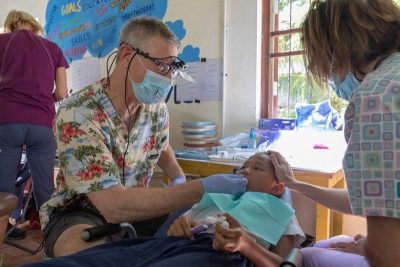 My first trip was to Cambodia in 2014. Since then, I've done two other trips, and I've seen firsthand their organization cultivate outstanding collaboration with the local communities that they serve.
A significant part of GDR's success is their relationship with the indigenous leaders of those communities, ensuring the availability of clinic facilities and the kids served.
What is your favorite part about the "volunteer experience" with Global Dental Relief?
It isn't just a single thing that keeps me coming back to GDR, it's the entire experience!
What is something you would share with a first-time volunteer who is getting ready to join a GDR clinic for the very first time?
I would go without any expectations and take in the entire experience. Be prepared to work hard because there is no end to the number of kids that need help.
Feel free to tell us anything else you would like to share with our readers!
Some of the most rewarding parts of the GDR trips is working with the local interpreters who share so much of their culture and history. As a tourist, you would never get to experience that.
---
Here at GDR, we are deeply touched by the hard work and efforts of our volunteers! The work we do is possible by the sacrifice and commitment of our dedicated volunteer teams.
Interested in joining us? Email (volunteer@globaldentalrelief.org) for more information! Come and adventure with your GDR family!