Posted on January 24, 2020.
One quick Google search.
A desire to volunteer abroad.
The bravery to say "yes."
In this month's Volunteer Q&A, we're highlighting Jennifer Swaney, a Delta Dental employee from California. Jennifer joined her first GDR trip in Kathmandu, Nepal in March of 2019.
Let's hear what a quick Google search coupled with one's bucket list can lead to!
1. Jennifer, tell us a little bit about yourself. How old are you? What do you do?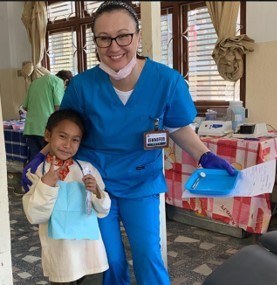 Pictured: Swaney working in the
dental clinic in Kathmandu.
I am 46 years old and I have worked for Delta Dental of California for 15 years. I have held various positions within the company, from Customer Service Representative, Administrative Assistant, Fraud Investigator to my most recent position of Provider Representative, where it is my job to work with the public to recruit dentists for the State Medicaid program.
2. What made you choose Global Dental Relief, and how did you find out about them?
At the end of 2010, I compiled a list of things I wanted to do, I called it a Bucket List, maybe more of an "Adventure List." My children were grown, and I found myself with extra time on my hands. I realized I had entered the time in my life where I could start doing the things I've always wanted to do. I added "travel to a foreign country and volunteer at a dental clinic" to my list. It was #58. When it came time to check that off my list, I did a quick Google search and Global Dental Relief was the top result.
I tend to do a lot of research. I read about the organization and made sure to read the volunteer reviews. When I read the reviews, I was happy to learn that GDR had great reviews and positive feedback. I went to their website and looked at what they had to offer. Before the end of the day, I had chosen a trip, submitted my application and committed to participate in the Nepal clinic. This was a 21-day trip, which included a trek along the Everest Trail.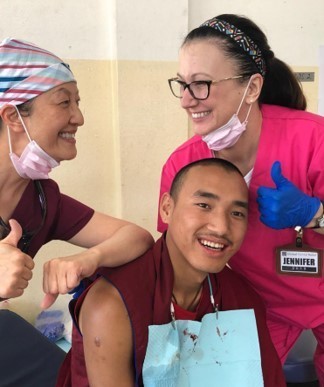 3. Have you had any other volunteer experience prior to this? If so, how did it compare to your experience with Global Dental Relief?
Prior to my GDR trip, I worked two of the California Dental Association CDA Cares events, which are weekend long events providing dental care to underserved or underinsured patients.
GDR was my first trip abroad, and I am very happy with how organized everything was! One thing that really stuck out for me was a comment made by one of the dental volunteers on our team. He said he has taken many trips abroad and has volunteered with several organizations, and GDR was by far the most organized and well put together organization he has ever traveled with!
I recently made the decision to return to Nepal with GDR, this time on a Small Adventure Clinic which will take place in Pokhara. Although I have already been to Nepal with GDR, I chose a new location.
GDR offers a wide range of volunteer opportunities within Nepal (and five other countries around the world). Instead of checking-off "travel to a foreign country and volunteer in a dental clinic" off my bucket list, I am now adding new GDR locations to my list!
4. What skills or qualifications should one have for this position?
This is an easy question to answer: "any" or "none." I worked in a dental office when I was a teenager; the last time I held dental instruments and assisted a dentist chairside was 30 years ago! When I signed up for the GDR trip, I signed up as a general volunteer and wanted to work in any job they needed me in. I was so excited when I was given the opportunity to work next to a dentist and assist them chairside! It really helped to reiterate how much I enjoy working in the dental field.
Any person who is willing to commit to a trip and is wanting to help in any way they can, they will find a place at a GDR clinic. The General Volunteers have various positions working with oral health education, administrative duties, and are even given the chance to chairside assist if they want to!
5. What were your expectations for this trip, and how did Global Dental Relief meet them?
GDR exceeded all of my expectations! One thing I can't stress enough is that I knew going to a foreign country to help is something I would enjoy. What I didn't expect was what I got in return. I never imagined my heart would be so full of joy, and the gift I received in return is something money cannot buy. The experience for me was life changing and it will forever be a part of me. GDR has a very special place in my heart.
6. What was your favorite part about volunteering with Global Dental Relief?
When I decided to go on the GDR trip, it was something I decided to do by myself. Four days before I left for Nepal, I woke up in the middle of the night and panic came over me when I thought to myself, "What am I doing traveling halfway around the world alone?" As soon as the panic came over me, it subsided.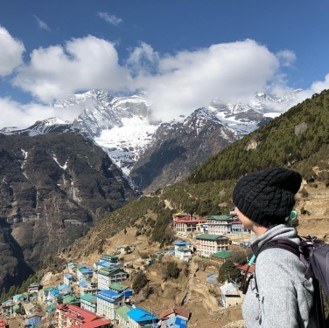 Pictured: Swaney trekking in the Everest region of Nepal.
The entire experience volunteering with GDR was my favorite!
During my trip, I took over 1,200 photos and posted on social media quite frequently (Instagram: @swaneyjen). At first, I thought maybe I was going overboard with my social media posts, but looking back, I am very glad I decided to do that, because in a way, it was a journaling experience for me.
I have been able to go back and look at the photos and read my updates, and it takes me back to a very special place. I feel the same feeling I felt when I posted the
photos and updates.
7. What are some things that you wish you would have known before getting to your destination? Do you have any tips for future volunteers?
During my second day of working in the dental clinic, I was overwhelmed with emotion. It was a very emotional morning for me, and it is truly something money cannot buy. This is what I would tell future volunteers, "You will find yourself outside of your comfort zone, and my tip to you is to enjoy every moment of it!!!"
8. Is there anything else you would like to share with our readers?
I hope you get to experience the same joy I found volunteering with GDR; "Happy Travels!"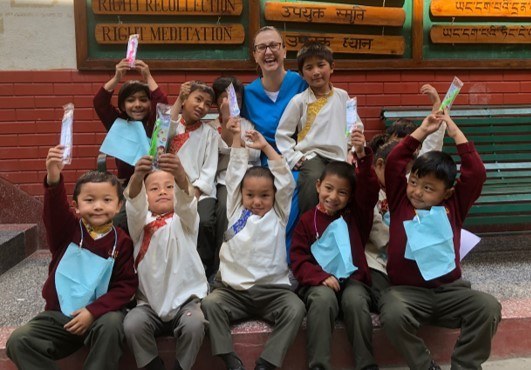 Pictured: Jennifer with a few patients after a successful week-long clinic in Kathmandu, Nepal.
Jennifer is one of our many dedicated and compassionate volunteers! Without volunteers like Jennifer, the work we do would not be possible.
We hope this series gives you a front row seat to what it is like to adventure with Global Dental Relief!
If you are inspired by Jennifer's story, let 2020 be your "Bucket List Year." Here at GDR, we offer 30 clinics a year in six different countries! Regardless of your background, experience, or dental knowledge, we have a spot for you.
Email volunteer@globaldentalrelief.org to find out how you can join us for a life-changing experience in one of our dental clinics overseas.

Content provided by Lucy Dinu
Instagram: @lucydoerfer