Utah Valley University Students Provide Dental Care to Children in Guatemala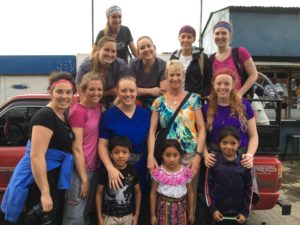 A year ago Karen Preston, RDH and Assistant Professor of Hygiene at Utah Valley University, came home from her first Global Dental Relief clinic with a dream of returning to Guatemala the next year with her students. In July, Karen fulfilled that dream when she led a team of three graduated hygienists and six students to the Mayan town of San Martin where they helped provide $162,380 in free dental care to 780 children. Some in the UVU group were seasoned travelers, for others it was their first time traveling outside the United States.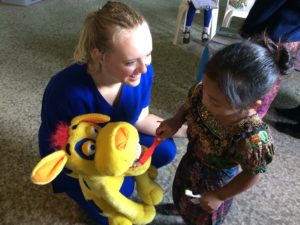 The new hygienists Haley Kessler, Kandace Nance and Jessica Manship were treating an average of thirteen kids a day; their positive attitudes and hard work inspired the whole team. Lindsay Clegg, a bilingual biology student, taught hundreds of children how to brush their teeth and make good dietary choices. Her cheerful spirit eased their anxiety as they waited their turn for an exam. Tracy Bedont, Alexis Iverson, Meghan Blackham, Anne Hansen and Alyssa Thacker all second year hygiene students were excellent assistants. Their knowledge of dental terms and instruments made the clinicians' job easier and quickened the pace of the clinic. On average we treated 130 kids a day, which is a record in Guatemala. After long gratifying days in the clinics, we enjoyed salsa dancing, exploring the market, thrilling pick-up truck rides and game nights. The students' lives were forever touched by the sweet children in the clinic and the camaraderie fostered when people are focused on helping others.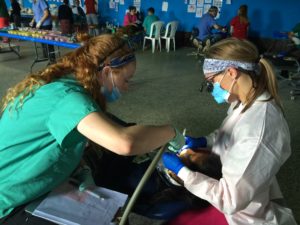 "I will forever remember my trip to Guatemala because I learned about people and I was able to influence and teach these beautiful children how to brush their teeth. I was able to experience the cultural differences between myself and the local Guatemalans and soaked in every nuance. Before this trip, I had never heard of Global Dental Relief. They were an amazing agency, which was organized and had a plan. What I enjoyed most about GDR was their push and motivation to provide as much service as possible to the children of Guatemala."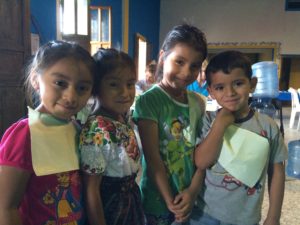 Pre-dental, dental and hygiene students are instrumental to our clinics in Guatemala. Their enthusiasm for dentistry and learning creates a positive energy that propels the whole team forward. If you're a student or educator that's interested in volunteering with us, please contact volunteer@globaldentalrelief.org We have spots available on our March 2017 and July/August 2017 clinics in San Martin, Guatemala.