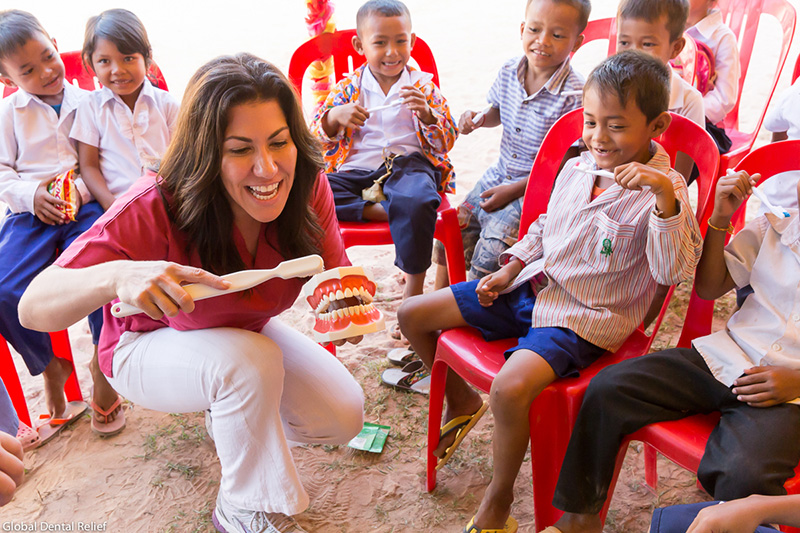 Post Date
April 15, 2016
Comments
0 Comments
Author
Global Dental
Category
Uncategorized
Volunteering as a family is not only a profound bonding experience, but it can have a lasting impression on your children for years to come.
Here are the top 5 reasons to volunteer on a Global Dental Relief field dental clinic abroad with your family this year.
1.) Expose your children to a new cultureTim Reaume 1411 Cambodia 06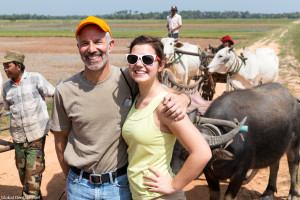 Volunteering in another country is like a living, immersive social studies class.
Far beyond the usual travel experience involving tour guides, buses and busy tourist sites, volunteering whisks you into another dimension, completely. You find yourself among other families, not unlike your own – working out of a local school or municipal building, far from any tourist activities or distractions. Here is where life happens.
2.) Opportunity to try new things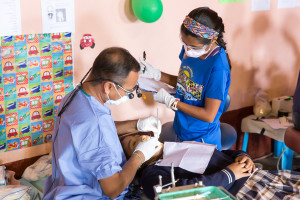 Families are used to a daily routine. We come and go, often not taking or having the time to connect with family members. Volunteering offers families a chance to break free from the daily grind and try something new together. Where else can a teenager learn how to assist a dentist or apply fluoride varnish to hundreds of kids? You can bet the dinner conversation after a day of working in a clinic with your teenager is very different than it is at home.
3.) Volunteering with family is a great bonding experienceBart Roach 1411 Cambodia 09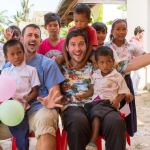 Imagine working side by side with your spouse, your mom or children to improve the lives of those in need. Working together in new and uncharted situations is a great way to connect with family. There are no distractions; you're on neutral ground and you have a common goal – to improve the lives of children.
It is hard to describe in words the bond created when two people set their own needs aside in service of another person in need. The memories created from this experience will be cherished for years to come.
4.) The whole family can participate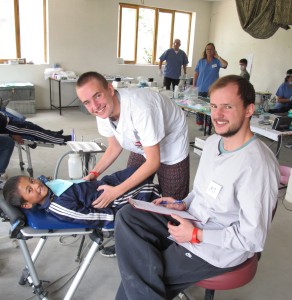 Simone Family3Because of the wide variety of volunteer jobs in the clinic, there is a perfect job for everyone in the family. Anyone can participate – from kids as young as 14 to grand- parents. Project leaders train volunteers on site, so you don't need to know anything before you go; simply show up with a good attitude and a willingness to work hard. From sterilizing instruments, to managing patient flow, to keeping master records – every job is an important cog in the clinic wheel, without which the clinic wouldn't be able to run.
5.) LoveMarilyn & Jen with kids (1)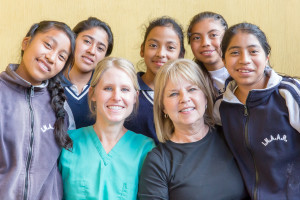 Love, love, love – yes it sounds mushy but where else do you get to spend the whole day with your loved ones – day in, day out, for weeks at a time? Volunteering with your family is just that. You get to be with your loved ones, you get to sleep in the same room with them, see them experience all the joys of volunteering that you are experiencing and the best part – you get to share the wonderful feeling of love that comes from contributing to improve the lives of children in need.
So what are you waiting for? GDR welcomes families to volunteer in clinics. Our schedule offers clinics over spring breaks, Thanksgiving break and in the summer months, to accommodate school schedules. Visit our website at: www.globaldentalrelief.org for more information on our trips and for the 2016-2017 trip schedule.
Author Kim Troggio is the Co-Founder and Director of Global Dental Relief. When not traveling the world for work, her family joins her on adventures – last summer she moved her family to Guatemala for six weeks. Her two boys, 4 and 7 lived in Antigua and volunteered for a day in a GDR dental clinic. It was a life-changing experience for the whole family.