Posted on June 12, 2018.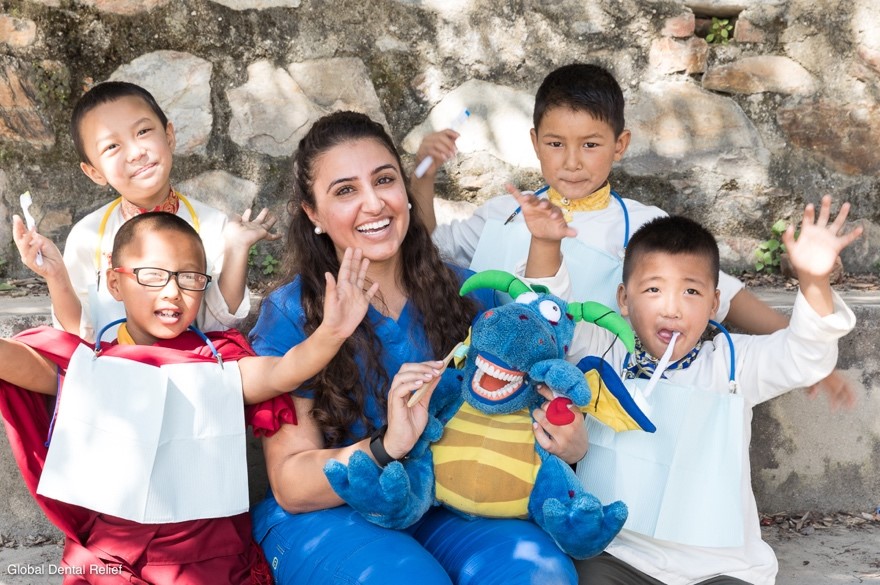 Do you have a passion for volunteering and dental care? Consider joining Global Dental Relief on a volunteer trip to one of five developing countries where we provide vital dental care for children. Volunteers are the backbone of the work we do – treating as many as 800 children in the course of a week with complete dental care. We promise it will be a life-changing experience. Learn more below about how you can get involved to help children live happier, healthier lives!
Global Dental Relief provides life-changing dental care to children in Nepal, Guatemala, Ladakh, Kenya and Cambodia. Many times, the children we treat don't have access to dental care. By establishing mobile dental clinics in these areas – and committing to seeing the same kids year after year – volunteers are able to make a significant impact in lives of children worldwide. As a volunteer with Global Dental Relief, here is what you can expect to experience when you participate in a clinic:
• Saving the smile of a child: This is our main goal and one of the most rewarding experiences you can have! Children come in to the clinic in profound pain and with infection. Volunteers address all areas of the mouth in the clinic – the child walks out visibly changed – smiling brighter and free of pain and infection!
• Hands-on experience: While working in one of our dental clinics, you will be surrounded by dental professionals who offer meaningful guidance and knowledge into the world of dental care.
• Lifelong friendships: What could be better than interacting with other passionate, like-minded, energetic and hard-working individuals. People who choose to volunteer share a common thread that is the basis for lifelong friendships. How about establishing genuine connections that will last a lifetime?
• New cultures: The regions where our clinics are set up offer one-of-a-kind experiences and interactions with the local culture. These interactions do not happen from a tour bus, they happen while working side by side with the local partners and families of the children we see in the clinic.
• Newfound appreciation: As citizens of a developed country, we have access to dental care any time we need it. We may not like going to the dentist, or we may find it expensive, but we have the ability to get treatment. Volunteering in a GDR clinic, gives you a deep appreciation for dentists and other medical professionals, and for the quality of care available to each of us.
The volunteer experience is one that is hard to explain. The culture, the children, and the communities you encounter during your time as a volunteer with Global Dental Relief are unforgettable!
Learn even more about volunteering with us and how you can start your application. Contact our office today at email: volunteer@globaldentalrelief.org or call 303-858-8857.