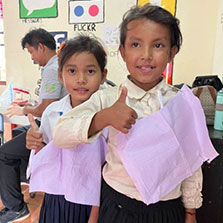 I love our Global Dental Relief clinics in Cambodia.
There is something about Cambodia that is hard to quantify. Maybe it's the lovely warm, well actually hot, air, maybe it's the green (I come from rather arid CA), maybe it's the lovely people. I am not sure but it all adds up somehow to make it a place I want to return to again and again.
It all starts when I walk out of the Siem Reap airport and take a deep breath and think yes! I am back. I take a Tuk Tuk to the Shinta Mani hotel. It's a lovely welcoming spot that is our luxurious home while we work really hard bringing dental care to the children of Cambodia.
Once I am settled in at the Shinta Mani I go out for a walk to see what has changed since the last time I was in Siem Reap. I walk along the river and visit my favorite spots. Louise and Jody, who run my two favorite shops, fill me in on Siem Reap happenings; new shops, new restaurants and new spots to visit. Last time they told me about the newly opened Angkor Botanical Garden and a new Georgian restaurant. Needless to say, both were tried and both are great additions.
Next, we meet with our local partners, HUSK and the Shinta Foundation, who facilitate our clinics in Cambodia. We go over plans for the next ten days, discussing clinic logistics, and planning fun things for our volunteers to do during their time off. Our volunteers travel across the globe to help and we really want to keep them happy.
We work in a village about 30 minutes outside of Siem Reap. When we head out there the first time with volunteers, we do a walking tour that concludes at the clinic site. It's a great way to get a sense of the community that we are working in. We will spend the next six days treating kids with a team of dentists, hygienists, and general volunteers. Our local partners support us by transporting the kids from their schools to the clinic, doing oral hygiene lessons outside the clinic, acting as translators, and even assisting dentists. We could not do the clinic without them and one of my favorite things about Cambodia is working with them.
The kids we see come from families that cannot afford dental care for their children. We do fillings and extractions when necessary, but even more importantly we teach these children the importance of oral hygiene. There are lessons on tooth brushing and healthy diets. GDR treats the same population every 18 months to two years and sees a noted improvement in their teeth over time.
During our time off we get to visit temples in the Angkor Wat complex, visit Tonle Sap Lake and the floating villages, get up at the crack of dawn to see the sunrise over the temples, shop at fabulous local shops, and eat at the tasty Siem Reap restaurants. All the time sleeping at the lovely (air-conditioned!) Shinta Mani.
But why do I really love doing a GDR clinic in Cambodia? The kids! They will melt your heart. You will want to return again and again.