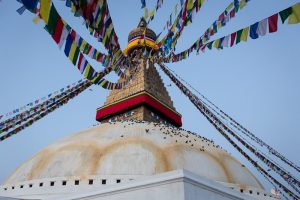 The clouds part on the last leg of my 22 hour journey to Nepal, revealing the massive Himalayas. It has been a full year since my last visit to this magical place – the place where Global Dental Relief started 14 years ago.
Arriving late at night, our taxi drives through the deserted, labyrinthine streets of Kathmandu as I am flooded with memories from past years — of great friendships past and present, long treks, beautiful children and the many journeys overland to provide dental care in remote locations. I notice fewer sacred cows and police checkpoints, more motorcycles, and new and multistory buildings. The roads remain the same – rough and potholed — and driving in the absence of stop lights is governed by unspoken rules of right of way.
Todays' journey ends at the Global Dental Relief apartment, my very special home away from home since 2002. Set deep in a garden, the apartment is surrounded by exotic papaya and guava trees, several Tibetan monasteries and the deep evening quiet of a place with few street lights. As ever, the barking dogs own the night.
Global Dental Relief will be in Nepal until November 29th with two fully subscribed volunteer clinics and several smaller remote clinics. We hope to reach up to 4000 children with dental care, and to share this vivid, intense experience with our friends and supporters. For tonight, I gratefully sink into bed smiling to be back again in this special place.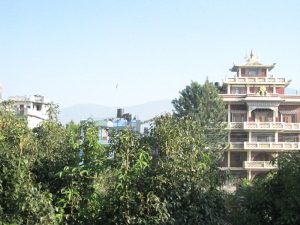 Home Away From Home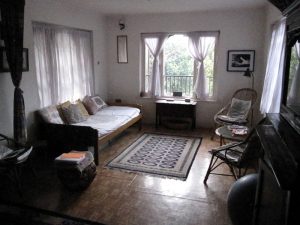 View From The Top