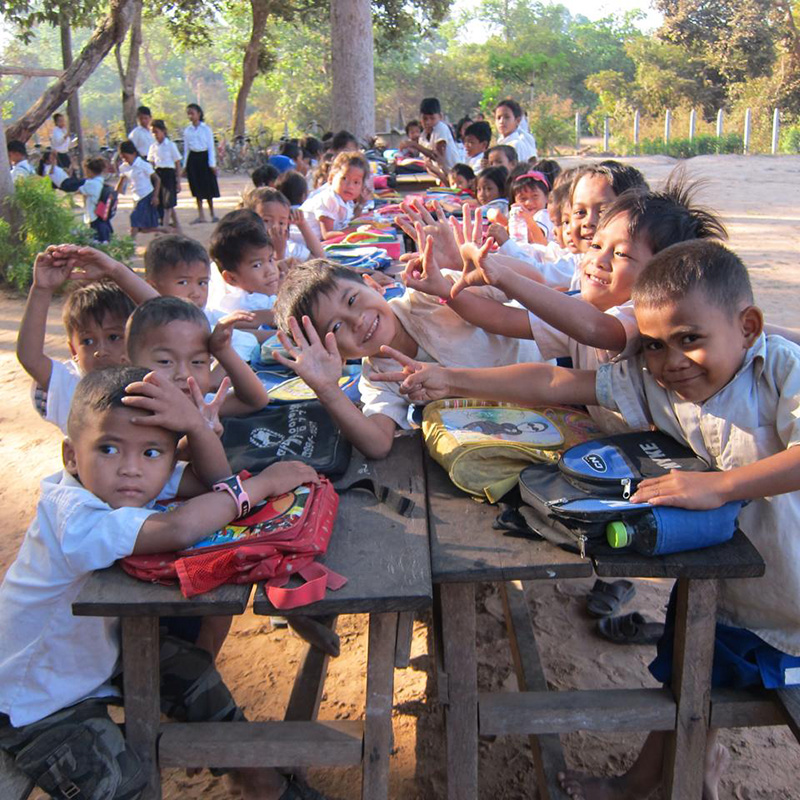 What does it take to give 1,100 kids full dental care in 10 days?
First of all, since this is my first blog post, let me introduce myself: my name is Will Mateo, and I've had the job of Country Coordinator at Global Dental Relief since this past September. I started at GDR soon after finishing my Master's degree in International Development at the University of Denver, and I was thrilled to be given the opportunity to work with an incredible team to advance the health of children all over the world—all while based in beautiful, sunny Denver!
Last week I returned from my first Global Dental field dental project in Cambodia. I can definitely say that I've never had so much fun while on the job. In fact, I've rarely had so much fun, period. The clinic was an eye-opening, thought-provoking, challenging, and fundamentally rewarding experience. Even though I had been with GDR for several months already and thought I knew everything about how our clinics operate, actually living and breathing the clinic experience was a revelation: I found myself constantly amazed by how well every puzzle piece crucial to the success of a clinic came together.
The puzzle, or: How to hit a moving target
And there really are a lot of moving pieces! It takes a lot of people dedicated to the same vision, doing very different jobs, to make a successful clinic. Pause for a moment, if you will, and imagine all the work it must take to:
– Get the right kids to the clinic at the right times on the right Kids 2 edit
days—we need mixed-age
groups to allow our dentists to work most effectively, so simply treating a school class at a time won't do;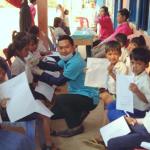 – Get consent and active support from the host community, teachers and parents, and secure a community space large enough to set up a seven-chair dental clinic (our invaluable local partners are instrumental in this);
– Ensure reliable electricity and compression power (to run the dental units) for eight hours a day in an impoverished rural Doug & Davevillage that may get electricity intermittently or not at all;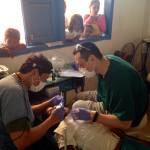 – Thoroughly examine, chart, treatment plan and properly numb every child who walks through the door;
– Exhaustively treat an average of three patients per hour per dentist, then make sure those same patients come back for any needed follow-up care;
– Maintain impeccable records;
– Make sure each child receives and understands instruction in how to brush their teeth;
– Ensure we treat each and every kid blogwe have committed to treating;
– Maintain a safe environment and ensure proper infection control standards are met…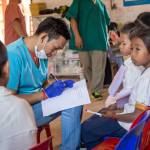 – And the list goes on…all in a village classroom without running water or panes on the windows!
The community that makes it possible
That this success is replicated 16 times a year on 16 different Global Dental field clinics is nothing short of miraculous, and it's truly humbling to think about the hundreds of people, all working towards a single goal, that it takes to run just one of those clinics, including:
– The dental professionals who donate their time and expertise
– The non-medical volunteers who work so hard and with such enthusiasm
– Our local partners who facilitate communication and work tirelessly to help us reach the most needful children
– Our incredible volunteer trip leaders who weave everything together
– The parents and teachers who entrust us with their children's good health
– Our generous community of sponsors and donors who make our work possible
– My colleagues in Denver that lay the intricate scaffolding upon which this success is built
Everyone is pitching in to help children live healthier, more successful lives. Wonderful! It's a really great feeling to be a part of the GDR family, which I believe is characterized by a tireless yet fundamentally actionable optimism: a community dedicated to making real, tangible improvements in the lives of underprivileged children.
Next time…
Be sure to tune in next week for part II of this post, where I'll share more of my impressions as a first-time volunteer, and talk about what makes the volunteer experience so special. Until then, keep brushin'!