Posted on May 26, 2020.
Through generous partnerships with corporations, businesses, and foundations, Global Dental Relief is able to provide free, comprehensive dental care to children in need all over the world.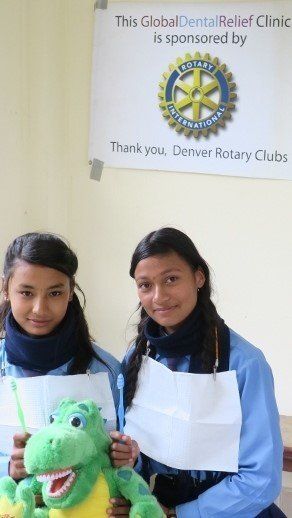 Since 2016, Global Dental Relief, the Denver Southeast Rotary and many other Rotary partners have worked together to provide critical first-time dental care to needy children in Nepal.
Over the last three years, Rotary has sponsored nine clinics in Nepal, providing care to 6,700 children!
Want even better news?
Every year and a half, these children are brought back into GDR clinics for continuous care and oral health education. With proper dental care, instruction, and education, we see their oral health improve with each visit.
Our hard-working volunteer teams – some from the local Denver Rotary clubs – work diligently to provide this life-changing care to the children of Nepal.
Clinics are held in the busy capital of Kathmandu as well in two rural locations created to reach children in more remote areas of Nepal. At these clinics, children walk up to several hours to receive the first dental care of their young lives.
Together, GDR and Rotary have provided 6,679 children with a total of 3,746 restored teeth, 1050 cleanings and 3800 preventive fluoride treatments – totaling $1.4 million in donated dental care. This is certainly something to celebrate!
During the clinic, each child gets an exam, followed by restorations, extractions, and a cleaning as needed. Children return to the clinic on subsequent days until all designated treatment is complete, and they are restored to full oral health. Additionally, each child receives oral health instruction, which is repeated at three points during their clinic visit. They are given a new toothbrush and a preventive fluoride treatment.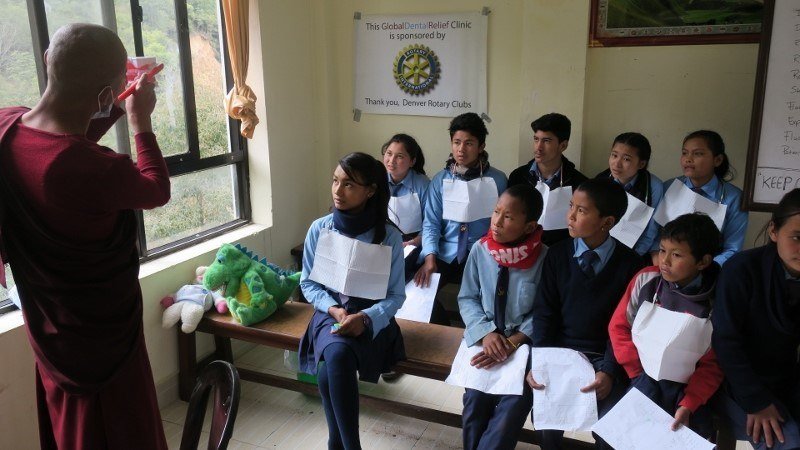 The children attending these clinics generally live in poverty without access to services such as dental care. Without dental care, children live with chronic pain and infection. Small cavities left untreated eventually expand to encompass an entire tooth. A child in pain with infection is unable to sleep or eat properly. They fail to thrive in school and in daily life.
Working together, Rotary and GDR can restore these children to dental health, giving them a better chance to overcome their often-challenging daily circumstances.
Thank you, Rotary, for your generous and continued support!