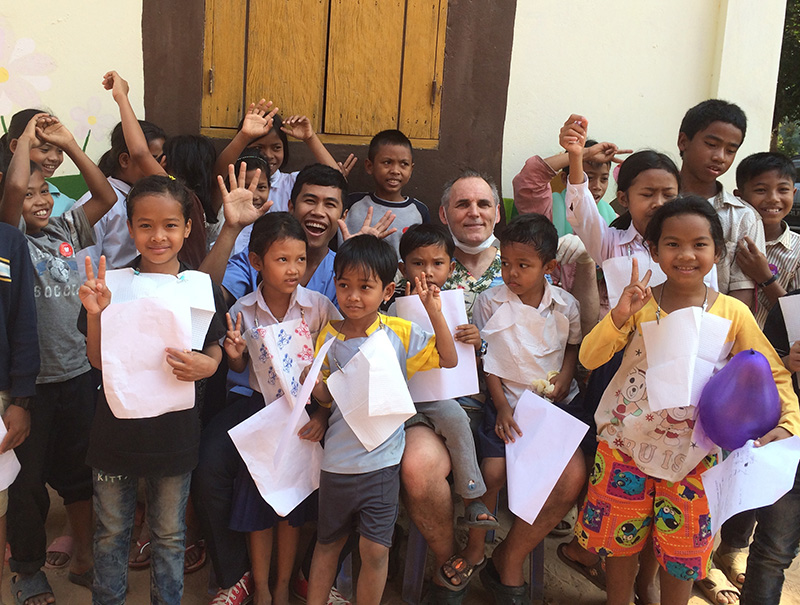 Global Dental Relief is back in Cambodia this month, hosting 35 volunteers over the course of the next three weeks.
There is a measure of alchemy that goes in to orchestrating a successful clinic. We are always a bit surprised and relieved when all of the details and logistics come together. It really does take a village to make these clinics a success.
Savieng is twenty six. He left his parents, two brothers and a sister in the small village of Khant, to look for a better life in Siem Reap. As the oldest child, much of Savieng's income – from his job at the Shinta Mani Hotel, a GDR partner and the hotel where volunteers stay while working in the clinic – is sent back home to take care of the family.
By Cambodian standards, Savieng's dad, Von, has a good job. He works for the government locating and disarming landmines, but his income is not enough to support the family. And the risks are high: hundreds of Cambodians are killed each year in the effort to disarm thousands of mines scattered across the country.
For the next two weeks Savieng is working in our clinic, in Bakong province, about a twenty minute drive from Siem Reap. Savieng teaches oral hygiene instruction to the children waiting in line, demonstrating how to brush their teeth, discussing the effects of diet on oral health and breaking out in to song and dance to keep the waiting children engaged.
The last stop in the clinic is the fluoride varnish station. Kids love this step – it's fun and engaging and they know that afterward they get a sticker and a high five. The fluoride station starts slowly, but as children begin to cycle out of the clinic, the room quickly fills up with chattering kids, all excited for their turn. Savieng jumps in along side John Lynch, a volunteer from New York. Together they work their way through the 40 children waiting for their turn in the fluoride chair.
For John, a retired NYC sanitation worker, this is a dream come true, and a heartfelt passion. "There is a saying that I live by: In order for me to keep what I have, I have to give it away. This is my way of doing that. I come to these places, I get to experience the culture; it's so much more meaningful help a child than to be laying on a beach somewhere. I have so much gratitude for this work, for this life."
For Savieng this work is equally meaningful. "Helping children is so important to me. There are so many children in my country who do not have anything and I want to help them. Children are very important for our life and I feel that we can always learn from children. Their smile inspires me to do more in the world to help people."
Together they ensure each child passing through the clinic receives fluoride varnish. They are a vital part of the success of our Cambodia clinic this week. The room is abuzz with excited children, gratitude and many healthy smiles.