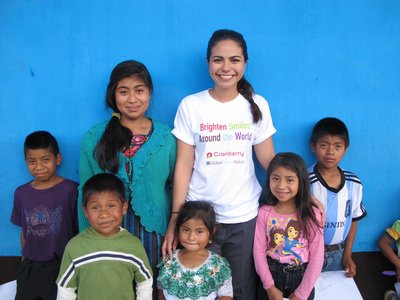 Global Dental Relief (GDR) partners with Cranberry USA, a dental supply company and generous sponsor. As a GDR sponsor, Cranberry USA offers five $1,000 scholarships to pre-dental and pre-dental hygiene students who are passionate about bringing dental care to kids overseas.
Thanks to Cranberry USA, Jocelin Calcagano – our first scholarship recipient – was able to join Global Dental Relief as a general volunteer in San Martin, Guatemala. Jocelin taught oral health education to students, she was able to gain hands-on experience by assisting dentists all while gaining practical experience for her future.
Jocelin was moved by the children she served and worked with, experiencing another culture first hand.  She gained insight into her future profession while working alongside experienced dentists and hygienists.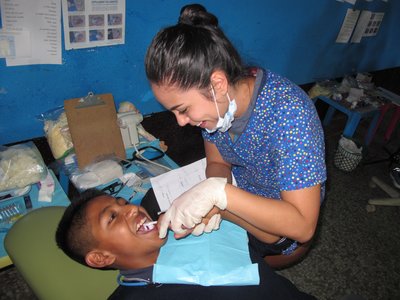 "The Cranberry Scholarship allowed me to see dental care in action. I've always wanted to do service overseas but could never afford it. Cranberry helped me tremendously, they were the reason I was able to attend the clinic."
Jocelin is highly motivated with a strong desire to make an impact, big or small.  She applies for dental school this summer, aiming for a dual degree in dentistry and public health. In her scholarship application she writes: A career in dentistry, gives me the platform to promote preventative care and create alliances that drive change in communities … Dentistry is not just a career choice for me; it is a commitment to service that I'm ready to fulfill.
Jocelin has taken a major step in her pursuit of making a difference in the world of dentistry.  As a pre-dental or pre-dental hygiene student, you can be a part of the difference too.  Global Dental Relief has two remaining scholarships for our 2017 Fall clinics in Cambodia and India.
Global Dental Relief is thankful for generous sponsors, like Cranberry USA, who give students the unique opportunity to work and gain experience in the field of dentistry overseas.
If you are interested in learning more about the Cranberry scholarship or ways you can volunteer with us, call 303-858-8857 or email volunteer@globaldentalrelief.org.