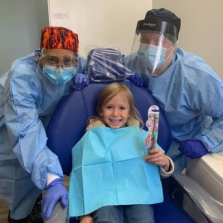 Three teams of GDR volunteers recently returned from Jenkins, Kentucky, where they provided much needed dental care to 308 people. Due to COVID-19, families had gone months without care, and many were in pain. Many residents commented how grateful they were that the dentists had traveled from across the country to help their community.
GDR volunteers were equally enthusiastic and grateful to be back in the field, doing the work they love – to help those in need. Long-time GDR volunteer Dr. Darshani Khosla remarked, "I have volunteered overseas many times, and this was my first domestic experience. In these unsettling times, with so much negativity in our country, it was refreshing to see that no matter what our religious or political beliefs, we are all good human beings. The people of Jenkins – where the need for dental care was huge – were so polite and grateful. It was my privilege to serve their community."
Dr. Khosla (left) and Rebecca Powell (right)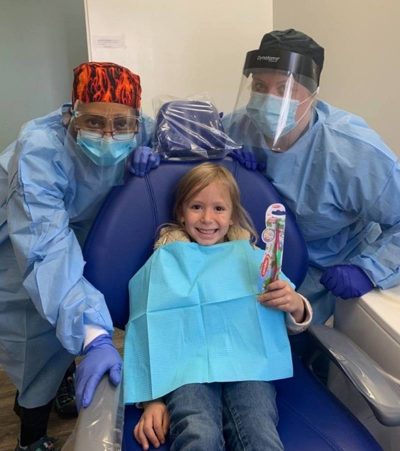 For Rebecca Powell – 1st time GDR volunteer – the clinic in Jenkins was a wonderful introduction to humanitarian service. "I enjoyed helping the community of Jenkins, which was already underserved pre COVID-19. The patients were grateful, patient and understanding. I would highly recommend this trip to get acquainted with the GDR process as this made me want to sign up for future adventures with them."
Although GDR has considered working in the US for many years, obstacles in obtaining licensing and insurance prevented us from considering US expansion. Thanks to a generous partnership with SmileFaith, a registered 501(c)(3) domestic charity, GDR was able to make that dream a reality this year.
As a new year approaches, we look forward to returning overseas once it is safe for our volunteers and the children we serve. And now, GDR has a new community to serve, right here in the US. We are committed to the community of Jenkins and plan to return with two more dental teams in March of 2021.
Teams are limited to four clinicians and six general volunteers. Spots are filling fast, so be sure to contact us and reserve your spot!
Written by Katy Troyer, Former Deputy Director