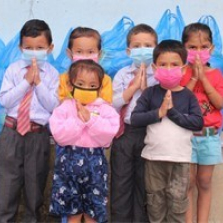 Life has been different for all of us under COVID-19. But, for many in Nepal and other countries where Global Dental Relief works, the virus has led to a constant and desperate struggle to afford basic nutrition for a family. Approximately 20% of the children GDR serves in Nepal and Guatemala are suffering from a shortage of food. These are children that we know well and are committed to caring for.
In July 2020, with the knowledge that dental health begins with proper nutrition, GDR pivoted to the Food Scarcity Program in lieu of operating clinics. Now in 2021, clinics are back up and running, but there are still children around the world going hungry. Over the past fifteen months, we have provided over 1.4 million meals in Nepal and Guatemala.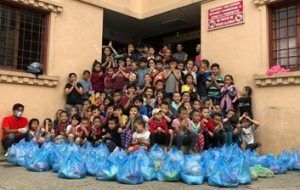 GDR recently hosted our annual party in Denver, and this year, all proceeds were raised directly to support the Food Program. Our goals for the night were to celebrate the successes of the past year and renew a commitment to serving children in need across the globe. We had our sights set on rallying enough support to fund the Food Program through the end of the year.
Thanks to the generous support of volunteers, sponsors, and donors gathered together, we exceeded our goal and will be continuing to provide nutrition to 750 families in Nepal and Guatemala through the end of 2021. It was a wonderfully successful night and left all of us at GDR filled with gratitude.
About the Food Scarcity Program
It costs just $14 to feed a family of five for a week or $56 for a month. Each week, families receive an allotment of rice, lentils, flour, oil, a vegetable, and salt. Meals are designed to fend off malnutrition and bolster a child and family's overall health and ability to thrive.
We were uniquely able to do this with our amazing local partners, who many of you know and love; Nelha Sangmo in Nepal and Cristy Velasco in Guatemala.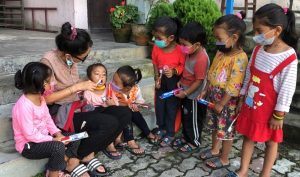 As the pandemic endured, Nelha and Cristy went to the local schools GDR has served in Kathmandu and San Martin and worked with their principals to identify the families most in need – 300 families in Nepal and 400 families in Guatemala.
They now meet them on Saturdays in schoolyards and distribute packets of food providing food for a family of five for a week. Weekly food packets include rice, lentils, oil, flour, a nutritional supplement and a vegetable.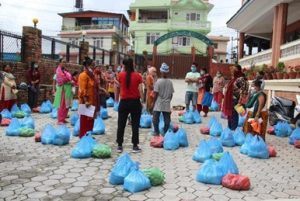 As a mother in Nepal tells us, "Every morning, I give my children as much black tea as I can to keep their stomachs full. I have been feeding them just one meal a day. I can't sleep most of the night because it always worries me if I will be able to feed them a meal in a day or not."
The pandemic has been devastating in both these countries. Lockdowns and closed businesses coupled with the end of tourist visits have stripped away jobs for working families.
Our deepest gratitude to everyone who supports this program and our work. Together, we are changing the lives of thousands of children across the world!