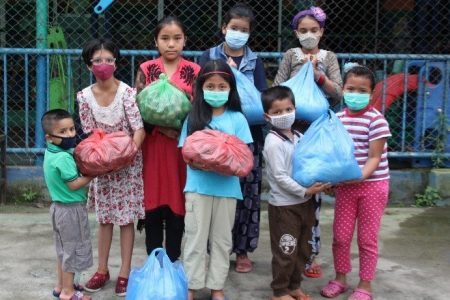 Life is different for all of us under COVID-19. But for many in Nepal and other countries where Global Dental Relief works, the virus has led to a constant and desperate struggle to afford basic nutrition for a family.
A mother in Nepal tells us, "Every morning I give my children as much black tea as I can to keep their stomachs full. Because of the virus, all my children are back from school. I have been feeding them just one meal a day. I couldn't sleep most of the night, because it always worries me whether I will be able to feed them a meal in a day or not."
In Nepal, food scarcity is due to many factors – loss of day labor jobs during lockdown, the end of tourist visits to the mountain kingdom, and closed schools meaning more mouths to feed at home. Remittance dollars, which account for a full quarter of Nepal's economic output, are drastically reduced as overseas workers have lost jobs and may be stranded far from home.
Children Global Dental Relief has served for almost 20 years are going hungry; children GDR knows, cares about, and is committed to serving. In response, GDR volunteers, donors, and long-time sponsors are reaching deep to do our part. We must reach out to these children with their wide smiles and trusting hands that reach for us in the clinic.
In July 2020, GDR began providing basic nutrition through weekly food packages, currently reaching 250 families in Nepal and 400 families in Guatemala. These packets provide food for a family of five for a week, fending off the dire effects of malnutrition and bolstering a child's overall health and ability to thrive.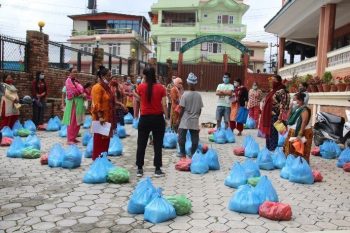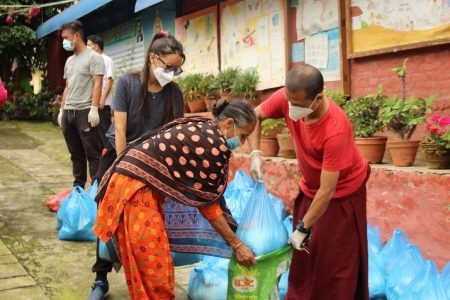 GDR is able to carry out this project due to our longstanding work with local partners. These partners have worked side by side with GDR over many years, bringing local school children to dental clinic, organizing return visits as needed, and keeping each school on a two-year rotation.
In Nepal, local partners include the highly talented Nelha Sangmo and the Shree Mangal Dvip Boarding School (SMD), which is home to 500 boarding students from remote areas of Nepal. SMD has been our base of operation in Nepal since our earliest days in 2001.
Nelha is the nurse at the school and the person charged (along with our great friend Sonam Doka Sherpa) to work with local schools to bring children to GDR's dental clinics. In turn, GDR pays for Nelha to complete her University degree in Public Health.
Now Nelha works with the monks at SMD to purchase and distribute GDR food packages weekly. Initially, she meets with each school principal to identify which student's families are most in need. Nelha meets personally with each family to verify their circumstances and adds them to the weekly list of recipients.
Each family receives a weekly allotment of rice, lentils, flour, oil, a vegetable and salt. Meals are purchased in bulk and distributed each Saturday at local school yards. Providing food for a week costs only $14 for a family of five. We can feed a family for a month for as little as $56.
In August, GDR will feed 250 families in Nepal each week, but we can do more! For $56 a month, each of us can invest in the children of GDR. We can extend our care to those who are suffering, to those who say, "Every day we only get to taste food but not fill the stomach."
We can do more, reach more schools and more children right now – we just need your help.
Please join us in this cause. Together, we can do our small part to bring care and hope to the children of Nepal.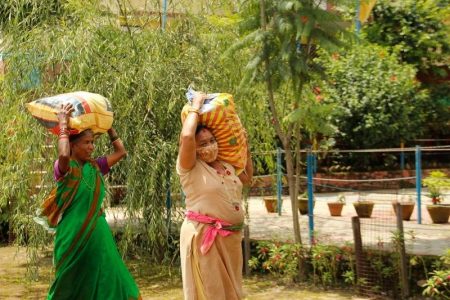 Written by Laurie Mathews, Co-Director Emeritus