Eiryn Waldman didn't fully understand what she was getting herself in to when she applied for and won the annual HOSA (Health Occupation Students of America) Scholarship to participate in a humanitarian trip to Guatemala with Global Dental Relief. But she knew she had an interest in dentistry and in helping kids live healthier lives. Eiryn traveled to Guatemala where she met fellow GDR volunteers and together they continued out to San Martin Jilotepeque – a small village situated in the Mayan Highlands.
Eiryn spent ten days working in the village and had the opportunity to shadow and work alongside seasoned dentists and health professionals. During her time in the clinic, she was trained as a dental assistant and held various jobs to keep the clinic running smoothly.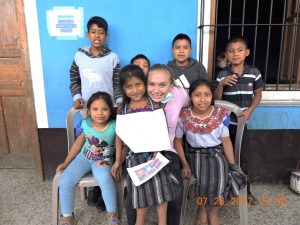 She gained a new perspective of dentistry as she learned about dental procedures, equipment, and materials used by dentists in the clinic. When asked what she thought of her volunteer experience Eiryn said:
"I learned that it is important to keep my eyes open and continue learning wherever I go … I found myself smiling every day for a different reason."
Last year, Eiryn was a HOSA ambassador at Falcon High School in Colorado. This year, she will enter her fourth year as a HOSA member. She has competed on the state level for three years and plans to compete again this year.
HOSA is a nationwide organization that strives to empower the next generation of health professionals. They aim to "enhance the delivery of compassionate, quality health care by providing opportunities for knowledge, skill and leadership development of all health occupation students." Learn more at www.hosa.cccs.edu. Global Dental Relief has worked very closely with HOSA for five years and was recently named the 2017 HOSA Colorado Partner of the Year.
When asked how HOSA has prepared her for the future, Eiryn reflected: "HOSA has definitely impacted my future. They have shown me what I want for my future and also what I don't. HOSA taught me a lot about independence, and that even in high school I can start working and looking forward to what is ahead."
The Colorado HOSA chapter continues to award two scholarships each year for HOSA students nationwide. For more information on scholarship opportunities available, please email volunteer@globaldentalrelief.org.