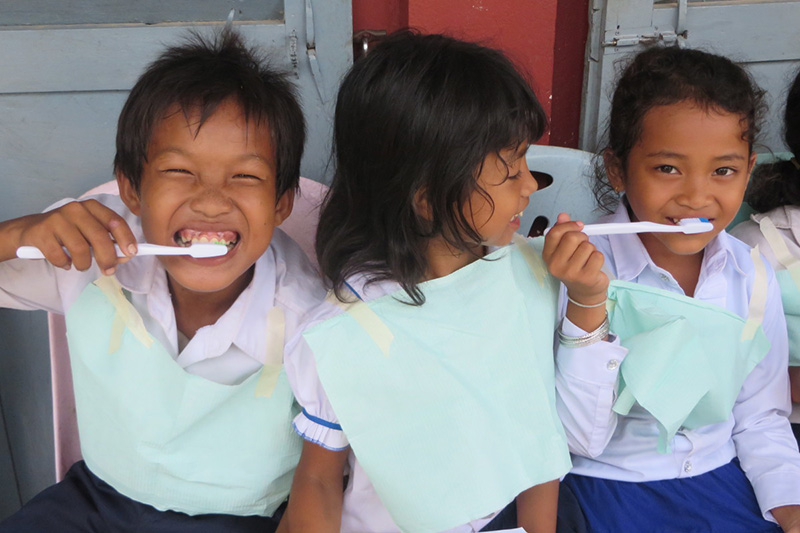 Arriving to provide dental care in Cambodia
Leaving Denver it is 7 degrees – -bitter cold and dark. Arriving in Cambodia, the heat is dense and the drive from the airport passes palm trees, and barefoot children playing in dusty yards.
Cambodia is another world. This graceful country of 15 million people has survived a devastating past and, thirty years later Cambodia isreestablishing schools, rebuilding infrastructure, and reclaiming a rich cultural heritage. The coutry is also a tourist destination for visitors to the world famous temples of Angor Wat.
Cambodia is one of two newest countries for Global Dental Relief's work. GDR began work here in 2013, working in village schools in the countryside near Siem Reap, the bustling gateway to Angkor Wat. GDR volunteer teams provide care to up to 3,000 children during 3-4 week- long dental camps each year.
Cambodia is a place of change and hope, yet much of the population lives under basic conditions. Close to 40 percent of the population is 14 years of age or younger; 70 percent live without improved sanitation and 40 percent without access to clean water. The literacy rate is 66 percent for girls and 74 percent for boys. In total, Cambodia has 258 dentists or one dentist per 100,000 people.
These are the facts of Cambodia, but they do not convey the specialness of this place– the beauty of vivid green rice fields, slender palms, and houses on stilts above ever changing water levels. Or the grace of a warm and welcoming population – and everywhere, the open, smiling faces of children.
Denver seems far away as we look forward to the days ahead in this special place, Cambodia.