Posted on August 20, 2019.

If you've previously visited our blog, you may have read about our ongoing partnership with Cranberry USA, a generous Global Dental Relief (GDR) sponsor.
Over the past three years, Cranberry USA has made it possible for students pursuing a career in the dental field to experience their future profession in a unique way! Over the course of the last three years, Cranberry USA has provided 13 pre-dental students the opportunity to volunteer overseas with GDR in five different countries!
We dedicate this blog to our 2019 Cranberry Scholarship winners!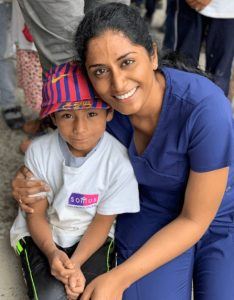 Ambica Mallipeddi, Guatemala
Ambica, an Indian trained dentist, is on a mission to receive her dental degree here in the US and hopes to someday be a pediatric dentist. Her passion for dentistry comes from personal experiences she had with her family as a young child. She realized the importance of oral health and oral health education after watching family members suffer with dental disease.
After being introduced to GDR at the 2019 Rocky Mountain Dental Convention, Ambica knew she had to join a clinic to help children overseas!
While in Guatemala, Ambica gained immeasurable experience in her future career as a pediatric dentist. Together with her team, the clinic provided free dental care to more than 700 children in six days!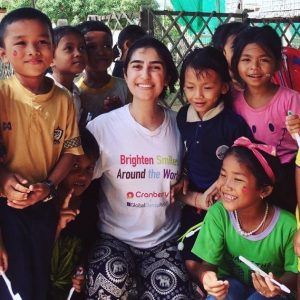 Saba Sadeghi, Cambodia
Saba Sadeghi's excitement and enthusiasm for dentistry stems from its ability to change lives. As she stated in her scholarship application, "Dentistry is a wonderful profession where health and happiness are prioritized."
Saba is a pre-dental student at the University of Toronto where she is double majoring in human biology and nutritional sciences. With a long-term goal of being a dentist, Saba spends much of her time shadowing professionals in a wide variety of humanitarian fields.
This summer, Saba was able to volunteer at our clinic in Cambodia. She gained hands-on experience working alongside licensed dentists and hygienists on her team.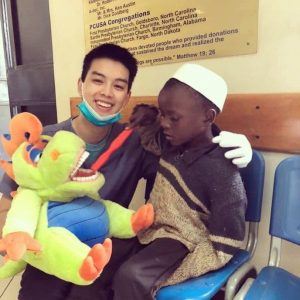 Michael Dang, Kenya
Michael's decision to pursue a career in dentistry came from a simple, yet powerful observation while visiting the dentist as a teenager. On one such visit, Michael witnessed his dentist calm the nerves of a patient. He realized in that moment how important dental care and the rapport between patient and doctor is.
Throughout his academic career, Michael has had the opportunity to observe a variety of different dental professionals. Through these experiences, he has seen proper dental care drastically improve the quality of life for many people.
"By effectively educating these children on the importance of preventive dentistry … GDR volunteers create more than just patients with cleaner teeth. We create teachers and role models — leaders — who can spread their knowledge of oral hygiene to their own families and communities."
While volunteering with GDR in Kenya, his passion and love for dentistry were not only confirmed but reignited!
Global Dental Relief is truly grateful for the impact Cranberry USA is having on the lives of future dental professionals and the children served in GDR clinics. Together, they hope to pave a new path for future dentists and hygienists.
If you are a pre-dental or pre-dental hygiene student, email us to learn how you can apply to be the next Cranberry Scholar!