Posted on December 21, 2017
In February, BP Dental employees Michael Luna and Jake Snell traveled to Cambodia to share their skills and big hearts helping children. For two weeks, they worked in a Global Dental Relief (GDR) clinic, providing free dental care to underprivileged children in Siem Reap.
These unlikely volunteers found GDR thanks to a very generous offer from BP Dental to donate their web design and digital marketing services. BP Dental is based in Utah and works with hundreds of dental offices around the US, managing their websites and media outreach.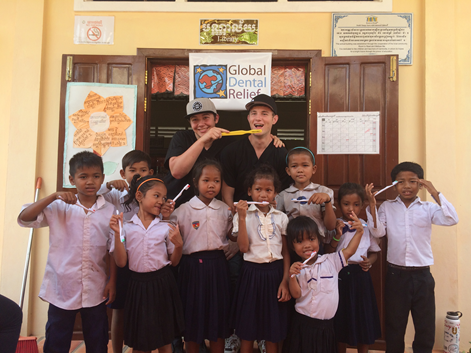 Michael Luna and Jake Snell enjoying a tooth-brushing lesson with the kids.
For both Michael and Jake, this was their first experience traveling to a developing country. Their trip is a perfect example of the vital role non-dental volunteers fill in a dental clinic and illustrates the critical need GDR has to recruit non-dental volunteers to work in clinics around the world.
Despite being out of their comfort zone, both young men adjusted well and demonstrated great work ethic in the clinic. "Working with GDR has been amazing," commented Jake. "I love seeing the kids come in smiling and the feeling that I get from serving them. It is very humbling to come to another country for the first time and see how much I take for granted. These kids are happy even though they have much less than we do."
Michael and Jake assisted chairside in hygiene, intake, and treatment. Each day was demanding as they worked in the hot climate under field conditions with portable units and field lighting. It had been a wonderful two weeks; a culmination of special interactions and small gestures between children and volunteers bridging generations and cultures. As they departed the village, Mike and Jake knew these sweet Cambodian children would receive ongoing care; another team would return in two years' time.
Volunteering time overseas is not all BP Dental has offered GDR over the last year. BP Dental has been a generous partner. Their staff has worked diligently to help GDR build a new, user-friendly website. The blog team has written and published blogs, and their media team has created marketing tools which many of you have seen on the GDR website and Facebook page.
With the efforts and enthusiasm of BP Dental, Global Dental Relief has been able to reach a new audience of volunteers; volunteers with an enthusiasm and zeal for making a difference in the life a child.
Global Dental Relief extends the utmost of thanks to BP Dental, their team, and all their hard work in the ongoing partnership to help bring free dental care to children overseas.