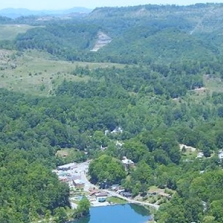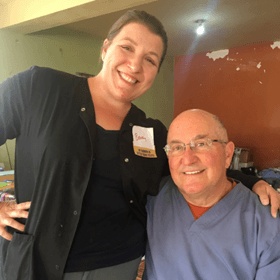 In the fall of 2020, GDR launched our first domestic clinic in Jenkins, Kentucky. Since then, we've completed a total of seven clinics in this wonderful Appalachian community and treated over 800 patients.
Mark Lisagor and Becky Bay, the Dynamic Duo, have already led three trips together this year, with another two scheduled in the spring of this coming year. The co-leaders love the scenic mountainscapes in this location, along with "the southern hospitality and genuine nature of the people."
Jenkins is a great clinic destination for new volunteers or for folks who are looking for a unique experience outside of international traveling. When asked how Kentucky differs from the rest of GDR's locations, Mark notes, "The clinic itself is more like the offices of most of our volunteers; a beautiful facility fully equipped for 21st century dentistry. The pace, due in part to COVID-19 precautions, is noticeably less rushed."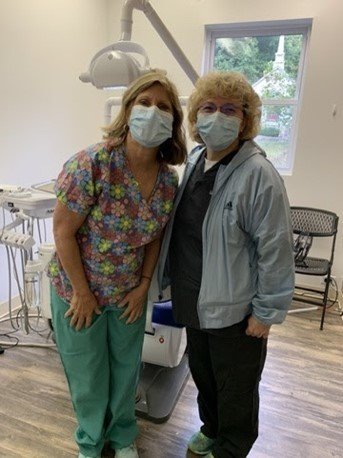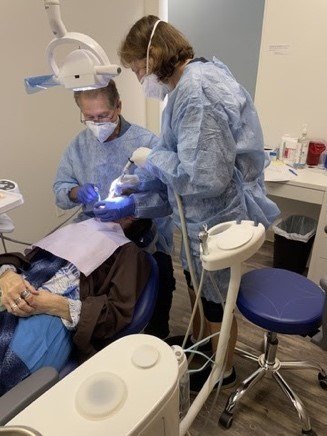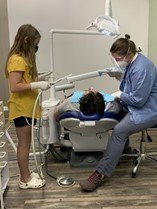 Though the facilities are nicer, the need for dental care remains high. In Becky's words, "The need for dental care in this community runs the entire gamut of dentistry. An estimated 40% of the children in the area are being raised by grandparents and/or foster parents."
According to Mark, the dental care in Jenkins is unique because GDR provides care for "a much wider range of patients, encompassing more urgent care for adults and less routine care for school aged children."
Becky adds, "While GDR's main focus remains on bettering the lives of children throughout the world, we also cannot ignore the need for acute dental care for the caregiving adults in the community. Resources are limited for many families in this region and we are happy to help how we can.
We have partnered with two school districts in the area and have been going into the schools for dental screenings and teaching oral health education to all the students. It's fun to interact with the kids in their day-to-day school environment."
A final word from Mark for folks considering joining a clinic: "Having completed three trips to the clinic over the past year, it is clear that the experience will be quite moving and meaningful to those who volunteer, whether dental or non-dental. You will be well cared for and much appreciated and are virtually guaranteed to come away from the experience wanting to be a part of future teams."
If you have any Kentucky clinic specific questions, don't hesitate to reach out to Becky, our Kentucky coordinator, directly at beckyb@globaldentalrelief.org.
We are looking forward to sharing an adventure in Kentucky with you!