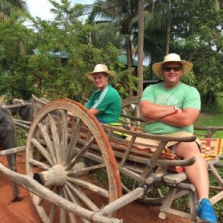 Global Dental Relief welcomes and works with volunteers from a wide range of careers and backgrounds. Beyond the dental field – lawyers, teachers, students and many other professionals join GDR teams across the globe, sharing the common purpose to improve the health of children.
Regardless of professional and educational background, studies show that volunteering with your family leads to a richer experience. Sharing the joy that comes from helping children live happier, healthier lives creates bonds that last a lifetime!
Here's why you should consider volunteering in a GDR clinic with your family:
1. Expose your family to a new culture, new traditions and different way of life!
Traveling and volunteering in another country is practically a Social Studies class that has come to life.
Far beyond the usual travel experience – involving tour guides, buses and busy tourist sites – volunteering with GDR whisks you into another dimension, completely. You find yourself among other families, not like your own – working in a local school or municipal building, far from any tourist activity or distractions. This is where life happens, and where connections are created!
2. Opportunity to try new things.
Many families can get "stuck" in their daily routines. We come and go, often without taking the time to truly connect with others. The GDR volunteer experience offers families a chance to break free from the daily grind and try something new!  Where else can a teenager learn how to assist a dentist or apply fluoride varnish to hundreds of kids? You can bet the dinner conversation after a day of working in a clinic is much different than you are used to!
Aside from learning new tasks in the clinic, families are able to taste new foods, see new sights and even start learning a new language!
3. The whole family can participate.
With a wide variety of volunteer positions in the clinic, there is a meaningful job for everyone in the family. Anyone can participate – from kids as young as 14 to grandparents. At the clinic briefing, each volunteer is trained by their trip leader to perform different jobs within the clinic. All volunteers are required to bring is a positive attitude and the willingness to work hard! From sterilizing instruments, applying fluoride varnish, teaching oral health education lessons, or keeping master records – every job is an important cog in the clinic wheel.
4. Love.
Love, love, love – yes, it sounds cliché, but where else do you get to spend an entire day with your loved ones? Volunteering with your family is just that. You simply get to be with the ones you love most. You share experiences with one another that are hard to put into words. You get to share the wonderful – and often unexplainable – feeling of love that comes from contributing to the well-being of children in need around the globe!
Join your loved ones and embark on the trip of a lifetime! Turn your next family vacation into an experience no one will forget. Email volunteer@globaldentalrelief.org today to find out how you and your family can join us for the trip of a lifetime!