Global Dental Relief is pleased to have worked with so many incredible volunteers in the past. If you are considering volunteering with us, we invite you to browse the following reviews to learn what others have experienced while providing dental care for children in Cambodia, Guatemala, Kenya, Ladakh, and Nepal.
Hear from our volunteers!
Marilyn Miller, Hygienist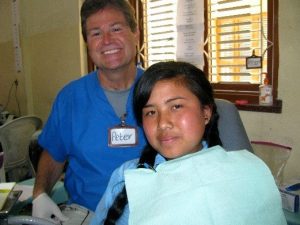 Peter Vanicek, DDS Colorado
It is such a privilege to be a guest in a local community for a period of time instead of just a traveler passing through. We have the opportunity to learn from each other, share a smile, laugh or hug and further a little global understanding.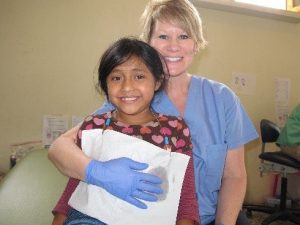 Sharon Oliver, Non-dental volunteer, Wisconsin
As a first time volunteer with Global Dental Relief, I can honestly say it was a life changing experience!
From the initial contact; registration for a site, preparation for travel to Guatemala – GDR was on top of every detail. The clinic volunteers worked so hard. The staff was incredibly efficient and high energy. They know the culture and have the relationships in place for this type of project to work. The best use of my time and energy!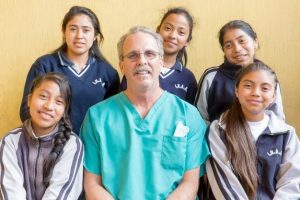 TJ Gabriels, Lawyer and Non-dental Volunteer, New York
I plan my whole year around these trips. I love travel with a purpose, being more than a tourist and making a small, positive mark in the world. This organization has allowed me to get out of my comfort zone and has really helped broaden my world view.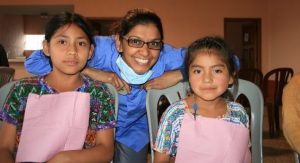 Purva Merchant, DDS – Washington
Being a part of an international volunteer group serving others has been a dream from the first day of dental school. Seeing that dream become a reality is so rewarding and energizing — it makes me want to volunteer over and over again!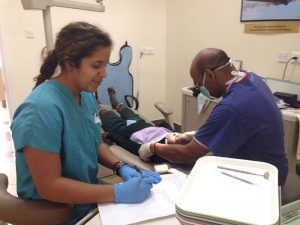 Katie Leonard, College Student, Harvard, Boston
Volunteering with Global Dental Relief as student has been a formative opportunity for me. When I was in India with the organization, I had my first real up close experience with the people and environment of a developing country.
And doing this work as a volunteer, I found nothing compares with the transformation from a reserved smile to huge grin after having cavities fixed.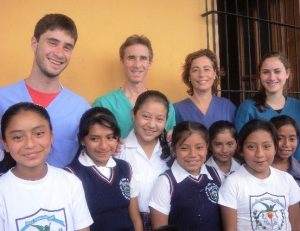 Len Goldman, DDS Maryland, shown with his family volunteering
Having the opportunity to travel to Guatemala to care for children in need was always a goal of ours. To be able to do so with our own children was a dream come true.
The hard work paled in comparison to the gift we all received by helping the children. It's the gift that keeps on giving as it is remembered by all of us every day.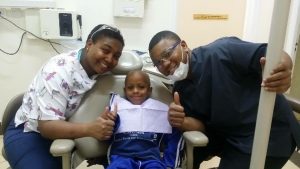 Marvin Blythewood, City bus driver and non-dental volunteer, Ohio
What is so special for me is that when I was coming up as a kid I was less fortunate than others. For me to grow older and be as fortunate as I am now, makes me feel great to be able to give back to the young people of Kenya.
When it's all said and done that beautiful smile on the kid's face makes me feel like a million dollars. And when I see that smile I know our job was well done.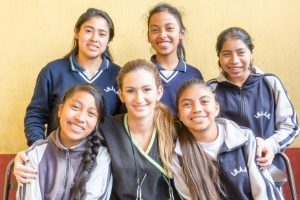 Carla Rando, Hygienist, Australia
Not many people get the opportunity to practice their career and do what they love helping disadvantaged kids in a developing country. I'm so lucky to have had the chance to immerse myself into their culture and lives. What an amazing experience and trip of a lifetime!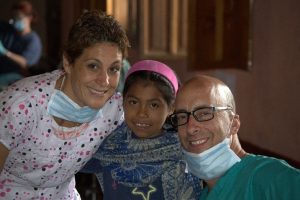 Sabrina Cooper, Dental hygienist, and Steven Cooper, marketing specialist and non-dental volunteer, Canada
Volunteering with Global Dental Relief is truly a magical experience! Not only do we interact with children globally, improving their oral health and nutrition – we also watch them leave the clinic with big smiles on their faces.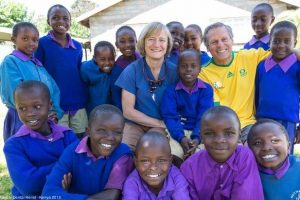 Karen Furlong, DDS – Halifax, Canada and Rich Slaunwhite, Contractor and non-dental volunteer
Working with Global Dental Relief as a volunteer dentist is a seamless and stress-free way to give back and serve the populations in our world where access to care is slim to none. I would highly recommend that you place a GDR trip on your list of things to do!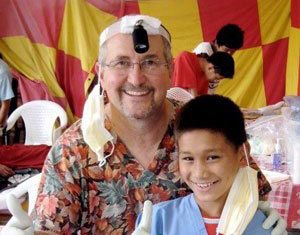 Mark Lisagor, DDS – California
Global Dental Relief is passionate about helping as many children in the world as possible.
Having been part of more than 50 dental teams with many different non-profit agencies, I continue to be impressed that Global Dental Relief never waivers from their core belief that each and every child needs to be treated with gentle kindness and respect. It is an honor to be a part of this effort.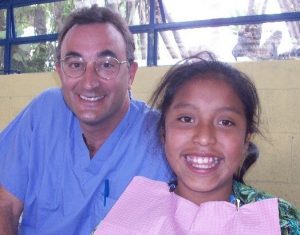 Nick Lombardozzi, DDS – Maryland
What keeps me coming back is the very special camaraderie that emerges within every team. It takes a certain type of person to bring their skills to far-flung corners of the globe – people will a deep well of compassion and a healthy sense of adventure.
My only regret is not having started this work when I was younger. It's made me more complete.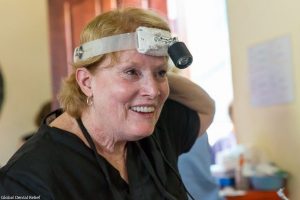 Rhea Haugseth, DDS Georgia
I was so impressed by the level of organization provided by Global Dental Relief. When we arrived the clinic was set up, the equipment worked and I had the supplies I needed. With this much organization, I could do what I came for – settle in and treat children.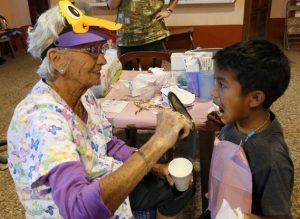 Mary Miller, Retired and non-dental volunteer Colorado
I feel privileged to have volunteered in all six countries. Each has a different culture and language but what is the same are the kids we help.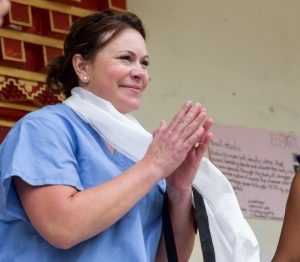 Tomme Bjerke, Hygienist, Minnesota
Within the first seven days of my trip, I was already planning my next. The impact these children have made on me is unbelievable and I can't wait to watch them grow and change over the years.
Volunteering gives me purpose outside of my daily life… even halfway around the world. I'm giving, yet I'm receiving—it's a win in my book!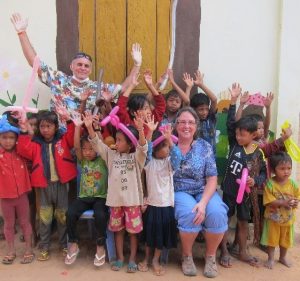 Patti Lynch, Hygienist, and John Lynch, Retired sanitation worker and non-dental volunteer, Connecticut
I have had the wonderful opportunity to participate in five GDR trips since 2007. Three of these trips were with my husband who worked as a non-medical volunteer.
The experiences I have had helping the children in communities with their oral health has been some of the most rewarding moments in my life.
As a seasoned dental hygienist I had a need to get out and give more in my field. GDR makes the journey an easy one. I have found that helping others is the magic elixir of life; I feel better when I am doing this.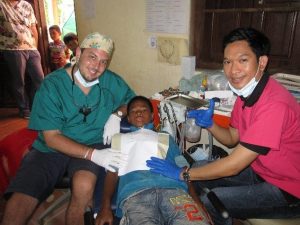 Michael Pasoff, DDS Montreal, Canada
As a dentist, I have treated and cared for many patients, however, nothing can compare to the sense of fulfilment when volunteering your time and skill to ease the pain and suffering of others. It never ceases to amaze me what can be accomplished when surrounded by dedicated, caring and talented volunteers, such as those I met in past GDR clinics.
I am very thankful to have found an organization that shares the same philosophy of caring and helping others, and I encourage you to take this opportunity and experience a GDR clinic! I believe that we, volunteers, get as much out of the experience as do the children we help.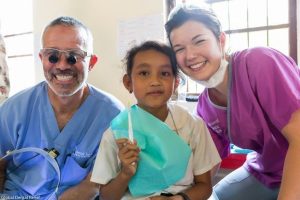 Tim Reaume, DDS – Michigan (shown with daughter, Sophie)
Global Dental does a fantastic job of putting together clinics that bring a diverse group of people together with a common interest in volunteering to assist others.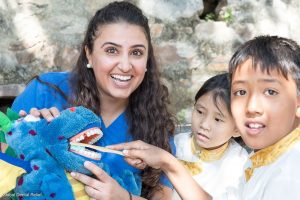 Nour Shehadeh, Dental Hygienist, Illinois
I am honored and grateful to help these amazing children, meet incredible people, explore their culture and change children's lives for the better. I look forward to many trips with GDR in the future.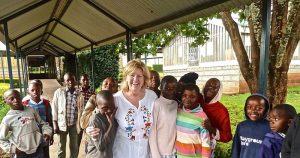 Peggy Lamm
If you want to literally change lives, this is a great way to do that. Our work with Global Dental Relief produced more real good than all the other cumulative good works I've helped with through the rest of my life.